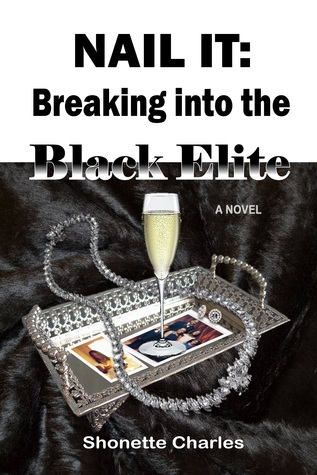 Nail It tells a story of a household very well set on being part of the social elite. Being well educated, having a specific job status, living in a high class neighborhood are only some of the factors that are required to being included in one of these elite social groups. To Noah and Sahara Kyle being included in these specific groups were of high priority.
The book was entertaining but I felt something was missing. It was an okay read but I wanted something more to happen. The book only showed a glimpse of the characters personal and family life. I would have liked to know why being in the social circle was so important to Noah and Sahara. The main focus was on Sahara being invited to the Sphinx Masquerade Ball and all the hoops she had to jump through to make that happen. Sororities do a great deal to raise money for many causes, but the focus on this book was more along the lines of a personal goal. The book portrayed that this status was of high important, so much so that Noah refused his wife relations because one group she associated with didn't reflect the image that he wanted to be associated with. But when she joined the right group and associated with a group fitting to his liking he was happy. Sahara went to college and was educated but seems her husband didn't want her to utilize her education. Makes me wonder what was the purpose of obtaining an education if it was only to look good on social applications and to boost about during social gatherings
The writing style is impressive and easy to follow. The author gave a subtly view of what goes on behind social groups and the service these groups provide to communities. The culture of the groups are shown to reflect loyalty and dedication, this is encouraging. Sahara is a woman that had her mind set on obtaining a status and she was set on making that happen. The sisterhood between Sahara and her neighbor Meranda was refreshing that they were strangers but Meranda was willing to help Sahara climb the social ladder. The book showed relationship between women how they can be true and how sadly some women can have alternative motives. The book was predictable but believable as well.
Though this read won't go down as a favorite of mine it was still informative and an enlighten read.
Editor's note:
This article was originally published at Long and Short Reviews. It has been republished with permission. Like what you read? Subscribe to the
SFRB's free daily email notice so you can be up-to-date on our latest articles. Scroll up this page to the sign-up field on your right.