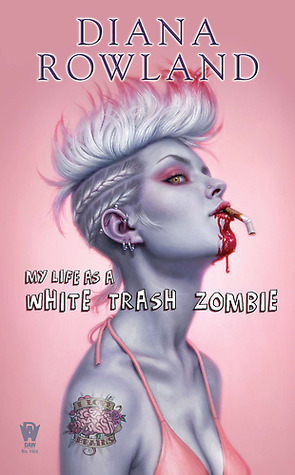 Some days the only way to stop being a total loser is to simply die. Angel Crawford, convicted felon, drug addict and high school dropout, has learned that lesson the hard way. Fighting with her on and off again boyfriend, a totally drunk Angel goes off with a stranger. Unfortunately for Angel the stranger had drugged her with date rape drugs and caused her heart to stop. Continuing Angel's very bad day, the stranger was driving her nearly dead body to a swamp to dump it when he got into a car accident and killed them both. So it's to Angel's extreme surprise that she wakes up in an emergency room completely without injuries yet butt naked with some weird protein shakes and a note that she has to take a job at the morgue or go back to prison. And as if trying to figure out what is going on while putting her life in some kind of order, someone is going around decapitating zombies. Just when Angel realizes exactly what she is, she's in danger of dying for real this time.
White Trash Zombie is a pretty hilarious book. I listened to the audio version and the narrator gets a lot of credit for making the story so fun and easy to listen to. Angel is the narrator and she really is a lower. She doesn't even pretend that she's anything else. That's not to say she's a lost cause, just that she's made bad choices in her life and doesn't try to rationalize or justify them. She accepts them but slowly, very slowly, realizes that previous bad choices don't have to define a person. She's smart and curious so she sticks her nose into just about everything with little regard for the outcome. The majority of the story is about Angel maturing and moving past her life of drugs, abusive parents, alcohol and bad men. She is open and self-aware but she's tough, sarcastic, and funny. She calls herself a scrawny bitch all the time but reminds people that she's mean and that counts for a lot.
Angel's voice is what really pushes the story, especially when it lags. Since a majority of the plot is about her dealing with everyday problems, how often to eat brains so you don't rot or how to steal brains from the morgue without getting caught, sometimes the action can wane. There's the serial killer problem but I felt as though that was a minor tangent to the main point of the story, which is Angel as a new zombie. There's a cute love interest but Angel shines as tough, non-nonsense heroine that wants to stand on her own and get her life back, not rely on a man to do it. So I really liked her much more than the typical female heroine who is overly sarcastic, breaks all the rules, and is tougher than any guy. Angel is a nice departure from that stereotype and the narrator's voice helped define Angel for me.
I will admit sometimes I was pretty frustrated with Angel. She is pretty smart but would be slow to pick up on some clues or the story would artificially allow her to figure some things out when there simply wasn't enough information to do so. She'd take leaps of logic that always panned out when they shouldn't have. However these are pretty minor complaints and I found this story to be highly entertaining and incredibly easy to listen to. I don't always absorb all the details listening to books versus reading them and some books lend themselves to that better than others. This is one you can listen to without worrying if you missed something. I'd recommend it, even if it was light on romance. I loved it all the more for that.
Editor's note:
This article was originally published at Long and Short Reviews. It has been republished with permission. Like what you read? Subscribe to the
SFRB's free daily email notice so you can be up-to-date on our latest articles. Scroll up this page to the sign-up field on your right.