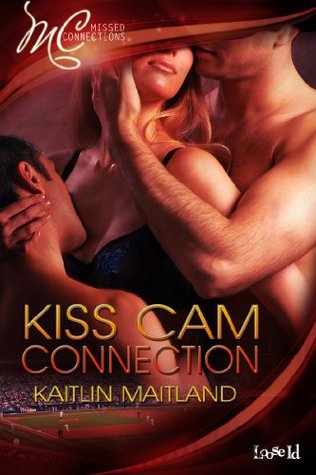 An impromptu kiss seen around the world leads to a chance at forever, if only they can find that girl again.
I love the premise of this short story. How cool would it be to have a knight (or two) in shining armor rescue the girl from her crappy date and get a sizzler of a kiss to boot? I had to know how the kiss came about, how did the girl react, how did her date react and how did she and her heroes find their HEA? So many questions just from reading the blurb, I couldn't wait to dive in.
Magdalena "Nena" makes for a very convincing damsel in distress. Seriously, the guy she's with at the ballpark is a total dog and he treats like one as well. Fate, karma or destiny has them sitting next to long time partners Micah and Brody. These guys are ripe for meeting the girl who can make them complete. These guys are so hot together but when they put Nena in between them it's off the charts.
There were a couple of issues that slowed me down in the story flow and only because it made me go backwards to be sure I hadn't misread. Nothing crazy like name changes or time jumps but little inconsistencies in what is said in one place doesn't match up when it's repeated in another place. It didn't kill the story for me but, as I said, slowed the pace because I noticed it. For me, the other issue was how over the top cave man-like Micah tends to be. I think the author could have pulled back just a bit on how his need for control and opposition to the "L" word. Having said that, there are enough hot scenes–the pool play comes to mind–and sweet chemistry between the characters to offset this. I wasn't distracted for long.
This is a short story so the pace is pretty fast. I thought it was interesting how Brody and Micah reconnect with Nena and they don't lose any time getting to know each other very, very well. Seriously, there is a lot of sex in not a whole lot of pages.
Brody and Micah were at an obvious stalemate in their relationship but I wanted them to work things out. They felt that adding a third, a female, would push things along and I guess it did get the action headed in the right direction.
This is a fairly quick read. It's not a book readers are going to have to invest a lot of time or emotion to. It's just a good quick, hot, hot, hot read. If that's what a reader is looking for then, look no further. This one will satisfy just fine.
Editor's note:
This article was originally published at Long and Short Reviews. It has been republished with permission. Like what you read? Subscribe to the
SFRB's free daily email notice so you can be up-to-date on our latest articles. Scroll up this page to the sign-up field on your right.