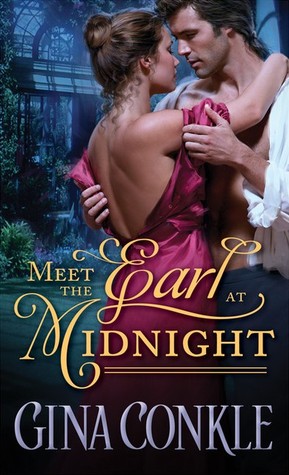 Right from the first chapter I was intrigued because the hero and heroine met in a most secretive, unusual and rather unsavory manner. The beginning of their relationship certainly wasn't normal but the dance between man and woman, and the subsequent attraction and seduction is as old as time.
Edward, the hero, starts off being mysterious. What I gradually learned about him leant a layer of depth to his character and put me solidly in his corner. He's actually a brave, noble and lonely man who takes his passion for living and turns it to plants. He's a smart guy with horticulture but is totally out of his emotional depth when it comes to trusting and loving a woman. The best sentence in the whole book is, "Give my friend his life back." Such a simple sentence but it's profound. What I learned about the hero right before that was said truly presented me with a man that absolutely, positively deserved a happy ever after. Even if I had not read that scene, all the interactions with Lydia throughout the book gradually showed me the measure of the man. He earns the title of 'hero'.
Lydia is a fighter. She's not some lily-livered, weak and insipid woman. She's a heroine in the truest sense of the word. She stands up for herself, is willing to compromise on some things but proves her mettle against some very strong personalities. The most strident was Edward's mother. What a dragon!
Lydia also has a secret agenda that, once revealed, actually helps create a bond that propels the budding romance between her and Edward forward. My favorite characteristic of her personality is that she's a problem solver and constantly comes up with solutions to the issues that plague her and eventually Edward too. She's the perfect counterbalance for the hero.
I know I said that the hero's mother is a dragon but in her own crabby way, she loved him too. I liked how the author found a way to make an ally out an enemy and in doing so, healed a family that was thought all but broken. It was another type of happy ever after that I appreciated.
Most of the conflict in this story is personal, between the main characters, with some of the secondary characters, and of course some internal angst spiced up the struggle too. I guess that means this is a character driven story. They sure had enough interesting baggage to wade through between them all; it was fascinating reading trying to figure out how it would all be resolved.
If a reader likes sensual buildup, Meet the Earl at Midnight has it in spades. The reason it takes so long for the two of them to get together is the deal. But sticking to the arrangement becomes a problem for both of them – they come to the realization that they don't want to wait. I practically felt the sexual frustration sizzle off of the pages. When they finally, FINALLY sate their desire, it was well worth the wait – very romantic.
I enjoyed reading Meet the Earl at Midnight and recommend it to historical romance fans. The novel thoroughly explores a unique relationship between two dynamic but opposite personalities and presents an entertaining and clever journey of love, discovery and the proving of the old adage that "love conquers all", even stubborn, mule-headed heroes.
Editor's note:
This article was originally published at Long and Short Reviews. It has been republished with permission. Like what you read? Subscribe to the
SFRB's free daily email notice so you can be up-to-date on our latest articles. Scroll up this page to the sign-up field on your right.