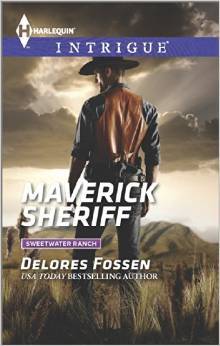 This action packed romantic suspense novel also packs an emotional punch as the life of a little boy hangs in the balance.This is the first book in the Sweetwater Ranch series.
Jessa is the new ADA and Cooper McKinnon is the sheriff. The two are at odds over an old cold case which involved Cooper's mother, a woman Jessa believes is guilty of murder. But, when Jessa's young son is in need of a blood donation, Cooper comes to the rescue. The weird thing about that is Liam has a very rare blood type and the odds of there being a donor in this small community are astronomical. Cooper does the math and while it's possible he is just grasping at straws the coincidences just keep piling up. Could it be possible that Liam is his son? A child that was supposedly killed in an accident but whose body was never recovered? How could Jessa have adopted him if this were the case?
Despite their obvious differences there is a physical attraction between Jessa and Cooper. If they had met under different circumstances they might have been friends or maybe even dated. That doesn't seem possible under the circumstances, or is it?
The first book in a series can be difficult because the author has to introduce the main characters, future characters and weave a story in there too. In this case there were just too many threads and the story was "too busy". Other than acknowledging to themselves there was an attraction to one another, the first half of the book pretty much left romance out of the equation. In fact, I couldn't see how this was going to work when Jessa was trying to prove Cooper's mother was a murderer and Cooper was trying to take Jessa's son away on top one more major issue that brings them both to the breaking point. So, by the time the pair act upon the attraction it felt forced and the chemistry was flat.
The other issue I had was a storyline I felt had a lot of potential, and at first I thought it was going to be the main thread, stayed in the background and it was never resolved. It simply fizzled into nothingness. Now in all fairness, this is a series romance and we will be visiting some of these characters again in the future, so it is very possible this particular thread will play out over time and finally get resolved.
The action starts up very quickly and the story moves along at a good clip which kept me interested. The no win situation involving Liam was very emotional and I struggled to stay neutral and avoid taking sides. I could not imagine having to turn over the child I raised as my own and thought I had legal custody of. I also couldn't imagine losing a child and then realizing this child could still be alive. Cooper had every right to explore that possibility and if he was the father he had legal rights to his child. But, wow, what a sticky situation and I had to wonder what would be the best thing for Liam in the long run.
The suspense level reached a fever pitch in the last few chapters. It was nail biting , edge of your seat action and chock full of big reveals and super nasty bad guys. This also brought down the gauntlet between Cooper and Jessa. Faced with the prospect of losing Liam and Jessa, Cooper realized what really mattered most in life and no matter what he wanted to be with Jessa and Liam. The other theme the book explored was strong family ties and the support system a family offers us when we are going through hard and confusing times in our lives.
Although there were some rocky moments here and there I enjoyed this book and found it entertaining. I will certainly look out for the upcoming chapters in this series. I'm looking forward to getting to know Cooper's brothers and exploring the McKinnon family dynamic. It should make for some interesting reading. The most important thing is this book did leave me with a smile on my face and a feeling that things worked out for the good of everyone involved.
Editor's note:
This article was originally published at Long and Short Reviews. It has been republished with permission. Like what you read? Subscribe to the
SFRB's free daily email notice so you can be up-to-date on our latest articles. Scroll up this page to the sign-up field on your right.