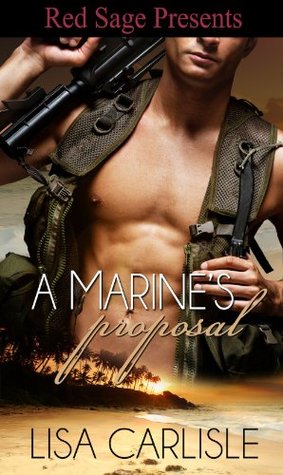 The beautiful island of Okinawa is a perfect setting for falling in love. But, Slade Masters and Caitlyn O'Neill are there because they are both members of the Marine Corps. The truth is Slade and Caitlyn are really very good friends. However, Slade comes up with an idea that would make life easier for both of them or could also get them into a lot of trouble. The plan: get married so they can live in an apartment instead of the barracks.
Marriage seems like a pretty drastic measure but, for Caitlyn, the idea holds some attraction because she has romantic feelings for Slade.
Someone in love and desperately wanting for that person to feel the same way might find themselves throwing caution to the wind. As hard at Caitlyn tries to think the situation out rationally, her heart overrules her head.
Now I can't speak for anyone other than myself, but I've done some bone headed things because my hormones and heart made me do it. (That's my story and I'm sticking to it.) So, even though Caitlyn is pretty sure Slade doesn't return her feelings she can't help but fantasize about being married to him. But, is a loveless marriage really the solution?
Slade 's plan isn't as practical as he would have Caitlyn believe. It's entirely possible he has other ulterior motives for pushing a wedding down Caitlyn's throat and jeopardizing their friendship in the process. What would happen if Caitlyn knew the real reason Slade proposed marriage?
This short story is sexy and steamy and sweet all at the same time. It was a fun read set in a unique locale and of course has a HEA.
I read A LOT of romance novels. Contemporary romance especially, seems to have one or two set formulas that are adhered to. If certain themes crop up often it doesn't stymie my enjoyment of the book, but it is always nice to come across something entirely original. While this particular scenario isn't done over much, it is still a common enough. In fact, it's done in historical romances as well. For some reason this theme seems to work better in the historical genre and comes off quite charming if done right, but with contemporary that's a little harder to pull off.
The story line in this one makes it work much better than I would have thought and I think the author's decision to keep the story short worked in her favor. The pacing was wonderful and the tension builds at just the right speed so things don't feel rushed. It's short with some heat. This light romance makes the perfect break or lunchtime escape.
Editor's note:
This article was originally published at Long and Short Reviews. It has been republished with permission. Like what you read? Subscribe to the
SFRB's free daily email notice so you can be up-to-date on our latest articles. Scroll up this page to the sign-up field on your right.