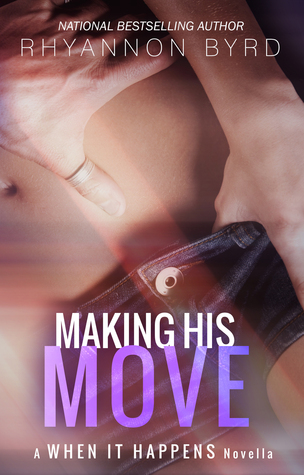 Sophie Ward has been mooning over the chief of security, Chris Riley, forever. A fortune cookie finally pushes her to do what her best friend has been insisting: "Today is the day to take what you want." Even cookies have accepted it's time she made her move. Even though she's terrified of being emotionally shot down, she knows it's time to make herself ask him out. Çhris was thrilled when it finally seemed Sophie was going to ask for more, but when she backs out, he decides enough is enough. He's wanted her for months now, and he's tired of being patient. It's time for him to make his move.
Readers who like a slow build up to their sizzling chemistry should find this story very appealing. I loved how Sophie and Chris didn't just jump right into bed together, but we saw them first as friends and then in that awkward dance shifting from friends to more. Personally, I got a little tired of Sophie's stammering and ignorance. While I love the character being unaware of her appeal and rusty in the romance department, I thought it a little much when she seemed to genuinely clueless to certain things. For an incredibly intelligent scientist, I questioned Sophie's IQ a few times. Like who is confused when an almost-lover asks if you're on the pill? He isn't asking because he's curious about your vitamin intake – he wants to know if you're protected. I would think even the meanest intelligence would gather that, but Sophie managed to not understand what he was really asking.
I loved the sex. The author manages to make it both sweet and still incredibly hot. Chris' attraction to Sophie is blindingly obvious, as is her need and desire for him. The BDSM is mild, but still very erotic. I felt the author could have eased into it a little more slowly – it genuinely felt a bit like after they'd become intimate Sophie changed from a shy, clueless little quasi-virgin into a rampant sex fiend wanting to be tied up and "not be used gently". This shift in her attitude – while awesome – was quite brief to my mind and sharp enough to make me pause and wonder if I'd missed something. Despite being disappointed in Sophie a number of times (especially near the end when she loses her confidence) I really did like her character. Not all heroines can be strong, or trusting. While I was sad Sophie wasn't one of these strong-minded, self-confidant women, I still found her likable and relatable.
While there are a few areas I personally questioned, I found this to be a fun, seriously sexy read and a good story. The characters were vivid and believable and the sex was smoking hot.
Editor's note:
This article was originally published at Long and Short Reviews. It has been republished with permission. Like what you read? Subscribe to the
SFRB's free daily email notice so you can be up-to-date on our latest articles. Scroll up this page to the sign-up field on your right.