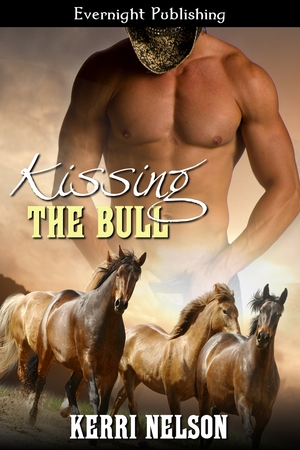 Wyatt Winston doesn't care for city girls, but when Baylor Stivers comes to stay with her aunt and uncle on the Double R ranch he's concerned the woman could be the downfall of his plans. Wyatt is an ex-bull rider and now the sheriff, and he has an iron-clad idea for his future, one that involves buying the Double R ranch from Baylor's aunt and uncle. But Baylor is sweet and easy-going, not to mention sexy, and Wyatt doesn't know what to make of her. Then a ranch-hand is murdered, and suddenly what Wyatt thought was a simple case of petty thievery becomes a lot more dangerous.
I really enjoyed the initial tension between Wyatt and Baylor. Even though there's sparks and chemistry from the moment they meet, neither rush into the other's arms. Wyatt is cautious and wary of Baylor's connections to the landowners, and Baylor is a bit put off by Wyatt's keeping her at arms length. I felt this allowed the two of them time to get to know each other and build more than just a physical foundation for their relationship. I also like how the plot wasn't unraveled immediately. We don't immediately learn what drove Baylor to stay with her Aunt and Uncle and flee Atlanta and her job, nor do we know the full scope of the plan Wyatt has until well into the story. This kept me eagerly turning the pages and interested in not just the characters and their relationship, but also the larger picture at hand.
I did feel that Lola—another worker at the ranch—was a bit of a cliché, the "other woman" who plays hard-to-get but suddenly turns jealous and hateful at a rival woman coming in. While this did add to the tension and plot, there were a few points where I felt a more subtle hand at the writing could have made this really shine. I was very pleasantly surprised by the plot of a killer running loose and felt the conflict surrounding this was well handled. While it does take second place to Wyatt and Baylor and their growing romance, I do love some mystery and thriller aspects thrown in to strengthen the plot.
All up I was really surprised how much I enjoyed this book. I found the pacing perfect, the characters interesting and the plot was well woven. This book has all the elements of a keeper for me. I'll definitely be looking into more books written by Ms Nelson.
Editor's note:
This article was originally published at Long and Short Reviews. It has been republished with permission. Like what you read? Subscribe to the
SFRB's free daily email notice so you can be up-to-date on our latest articles. Scroll up this page to the sign-up field on your right.