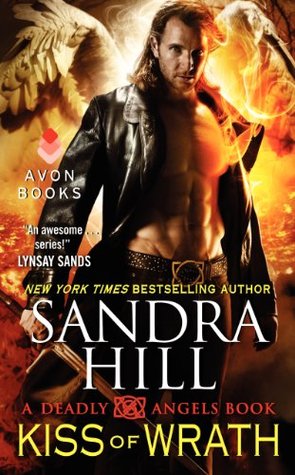 A soft heart will surely get ensnared in this latest escapade from Ms. Hill. This is a very busy book with so many elements to engage the senses; it was hard to put down. I'm predisposed to liking the books in this series because of the sheer novelty of Viking warrior vangels- vampires who have to earn their wings. But each man has the job of making me respect him has a hero and a heroine has the task of redeeming the wayward man while showing me a woman who is strong enough to do so.
Mordr is a man who had the unthinkable happen to him when he was human. He lost his family. The how of it is greatly disturbing and I credit Ms. Hill for choosing the one thing that would haunt any man with a conscience. It was therefore completely believable to me that this trauma would affect the rest of his life and unlife. The spike of anger that speared his heart all those centuries ago could only be healed by an equally pivotal moment or event and it comes in the form of Miranda.
Miranda is the heroine who goes from being a single, career-minded woman, to a mother in an instant. As if dealing with kids isn't challenging enough, their biological father is a whack job who has a criminal bent. What's a new and frazzled single parent to do? Get a nanny. And the adventure of a lifetime begins.
I liked the sparks that fly between Mordr and Miranda. I liked the kids, their personalities and how everything is woven together. I even laughed about the dog. There is a sweet innocence about it all that survives even when there is depravity and evil intent that tries to complicate their lives in a big way.
Speaking of evil, Jasper and his sexual perversions is back. Because this is a standalone read, the author has to impart upon a new reader just how vile, twisted and disgusting the bad guy is. Since I am well versed in his penchant for depravity after a few books, I skim those parts. They bother me. But a new reader should read them to get a handle on why the vangels are so important and necessary and reading the short shots about Jasper will definitely clue them in. Good MUST win over evil. I won't accept anything less. Good thing I don't have to.
One thing bothers me about Mordr – how to say his name. It's not a big thing but it distracted me a bit. When I tried to Google it, I kept getting references to Lord of the Rings. Not much help. I checked the glossary at the end of the book but there was no help there. I mentally pronounced him More-door, and sometimes More-dra. But no matter what I called him, he sure was a hunky hero.
I liked the growth in each character, their dialogue and their sexy interludes. This story certainly has spice and Ms. Hill used a fair hand in sprinkling the saucy bits where they did the most good. I had a lot of fun reading those scenes.
There is a lot of action, drama and suspense. I kept waiting for one of the bad guys to fulfill his destiny and was surprised to find that someone else was first in line. I was actually kind of glad of that but still, he does have the lemon taint but it never seemed to be acknowledged or mentioned except for the once. It makes me wonder if he'll be a recurring bad guy. I hope not – I think he could be redeemed. Not as a hero but at least a man who could be turned to the right path. If he's never reintroduced, then it's a missed hanging thread.
What isn't left hanging is the happily ever after. The last two paragraphs had me sniffling in a good way. It was an effective 'awwww' moment and it made me happy because it was the perfect complete wrap up to a well written story.
Kiss of Wrath is another winner with a lot of reasons to applaud Ms. Hill's storytelling prowess. It's highly entertaining, vibrant and fun. There were moments I gasped, I laughed and giggled and other times I just melted. Of course then there were parts that gave me the willies. Then there was the loving between Mordr and Miranda; their romance was wonderful to watch grow. This is a well told, delightful and exciting story that I'm thrilled to recommend to readers of paranormal romantic suspense.
Editor's note:
This article was originally published at Long and Short Reviews. It has been republished with permission. Like what you read? Subscribe to the
SFRB's free daily email notice so you can be up-to-date on our latest articles. Scroll up this page to the sign-up field on your right.