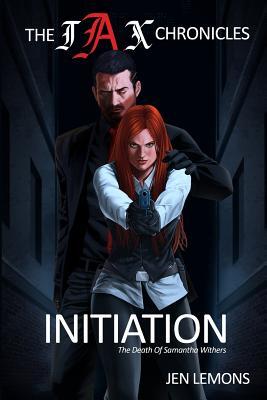 Every choice has a consequence, but not every consequence can be anticipated ahead of time.
Trauma might as well be Samantha's middle name. Her tumultuous childhood has left behind deep psychological scars that make themselves known from the beginning of this tale. Certain words and gestures that the average person would interpret as friendly or harmless carry much darker connotations to this character. What I found most interesting about her, though, were the brief glimpses of the young woman behind her emotional anguish. Samantha is a well-rounded protagonist whose raw reactions to everything she has endured so far are painfully realistic.
Uneven pacing shows up fairly early on. So much time was spent explaining Samantha's backstory and showing how she adjusts to her new life that there wasn't as much time left to explain all of the clues about her mother's death that she discovers at each hit as I would have preferred to see. Even though it was full length, certain aspects of the plot felt like they weren't given enough time to fully develop. This could have easily been a much longer story.
Far too often justice only applies to people who aren't wealthy or powerful enough to outrun it. What I found most fascinating about this tale was how the assassins attempt to level the playing field by ending the lives of people who should have been stopped much sooner. The most memorable scenes discuss the morality of what Samantha and X are doing. From what I understand, there is a sequel in the works to The JAX Chronicles: Initiation, so I'm looking forward to seeing how the moral codes of these characters develop as they complete even more hits.
I was confused by some of the rules of this universe. Characters say one thing but then do another without a compelling explanation for their apparent change of heart. It was never quite clear to me if these reversals were intended to erase what had been previously revealed about those characters or if there was something untrustworthy about their personalities that I never picked up on.
As soon as I read the premise, I knew I had to give this novel a try. The idea of a teenager becoming an assassin is as riveting as it is disconcerting. Ms. Lemons embraces the dark side of Samantha's new identity, and the results are inappropriate for anyone under the age recommendation. In some ways this didn't sound much like a young adult novel at all given the violent setting and graphic flashbacks to Samantha's childhood.
The JAX Chronicles: Initiation straddles the line between young adult and adult fiction. I'd particularly recommend it to anyone who is interested in dipping their toes into a young adult novel or who is ready to start reading something gritty.
Editor's note:
This article was originally published at Long and Short Reviews. It has been republished with permission. Like what you read? Subscribe to the
SFRB's free daily email notice so you can be up-to-date on our latest articles. Scroll up this page to the sign-up field on your right.