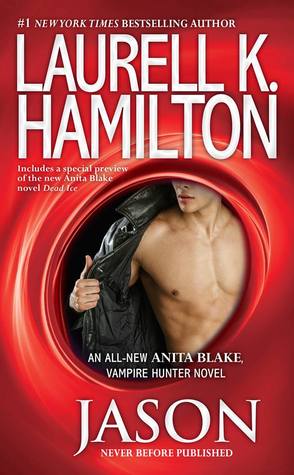 If a reader is looking for an erotic short story to singe their eyebrows off, cause hot flashes and a few blushes, then Jason should do the trick.
I've been following the Anita Blake series for quite a few years. Yes, I've heard that a lot of early readers are uncomfortable with the turns Anita's life has been taking when it comes to her relationships. Some felt they have become less story and more sex. I have not felt that strongly against it, probably because I do enjoy reading mild erotic romances. However, I don't think Jason is quite as mild as I expected. Some erotic romance readers might think this is tame but since I don't read F/F as a rule, it was an eye-opening experience for me. I don't like F/F romance but here's the twist. This was Anita. This was Anita facing her problems with Jade. This was Anita learning the differences between herself, Jade and Jason's girlfriend, J.J. I found myself fascinated. I care about Anita and as such, this book had a more powerful impact for me. I actually enjoyed it because for all the sexy talk, descriptions and hot scenes with Nathan, Jason and the rest of the small crew, there was still a purpose, a goal that had to be reached and sex was the vehicle for making it happen.
Since the Anita Blake series is ongoing, I hesitate to call this a standalone read. Yet, this is focused on figuring out if Jason and J.J. could realistically make a go of their relationship. It focuses on a short span of time with a tight group of characters. It possibly could be read as a standalone if a reader is looking for a book that explores some serious multi-partner action and doesn't demand a traditional HEA. Nothing about this series is traditional and this book is no exception. As for the conclusion, it's as close to a happy for now as it can get because Ms. Hamilton is the queen of hooks and dangling teases. She resolves the big stuff but always leaves a reader yearning for more, in a good way. I'd say Jason fits that formula.
For avid fans of the series, this is a must add to the collection. If only because we see Jason pursuing the most 'normal' of all the romantic entanglements I've seen in this series so far, and he's a very likable and endearing character. I'm glad that it looks like he might have found someone who sees him for the man he is and not his were-animal. It was a fun novella and will probably appeal to fans more than new readers. Then again, on its own, this is a very hot read. In any event, it's a decent story and I'm glad I read it.
Editor's note:
This article was originally published at Long and Short Reviews. It has been republished with permission. Like what you read? Subscribe to the
SFRB's free daily email notice so you can be up-to-date on our latest articles. Scroll up this page to the sign-up field on your right.