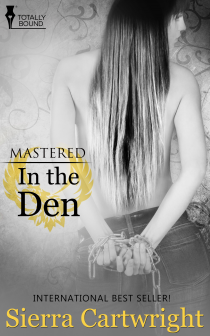 Sometimes, after several books an author's writing quality starts to decrease. That's not the case with In the Den, by Sierra Cartwright. In this novel, book 6 of the Mastered series, Ms. Cartwright delivers a fascinating story that sucked me right in from page one.
Personally, I don't think it's necessary to read the rest of the series before this one, but I highly recommend it as it's nice to recognize some old characters and to get to know the mysterious owner of the Den, Damien Lowell, from the start.
The overall plot might not be innovative, but Cartwright's writing is wonderful. The words flow easily, and as with earlier books I was seduced into the world she creates. Also, as I've mentioned in other reviews, she has a knack of teaching about the BDSM lifestyle through her books without detracting from the erotic, without making it seem like an actual lesson. Everything seems natural and the story rolls effortlessly.
Though In the Den is erotic beyond any words I could write here, what really makes it a great read is the love story between the characters. It was emotional, heady, full of unexpected little paths that left me wondering if they'd make in the end. After all, Damien was not falling for any girl. The woman to whom he had decided to dedicate all his affections was none other than the respected Domme Catrina Davidson.
Initially I was a bit hesitant about Catrina becoming a submissive. After all, she was a Domme, had been since forever and that made her awesome to my eyes. Nevertheless, this was also precisely why I was intrigued: How the hell was Damien going to bend her to his will? It would have definitely been very interesting to read if it had been done the other way, Catrina dominating Damien, but Ms. Cartwright still caught me up in the intricate romance that bloomed between these two.
Damien is not only old-world manners, good looking, intelligent and wealthy. He's seduction on two feet and he snuggles! He knows what he wants and he goes after it without hesitating, but when it comes to love, it was interesting to see a different side of Damien. I knew he was in love long before he figured it out.
Catrina is Damien's equal in everything. More than once I found myself wondering what it would be like to be under her scrutinizing wide-eyed gaze. The path that Damien leads her into, was not easy to watch. More than once I found myself holding back tears with her, struggling with every step of wanting to submit but not quite getting there yet.
There is little more I can say about the sex: it is amazing, scorching, sizzling. The chemistry between the characters is off the charts (I'm still reliving that first kiss in my mind or the coffee table scene).
All in all, In The Den is a great novel, which I've already read twice and I know I will read again and again.
Editor's note:
This article was originally published at Long and Short Reviews. It has been republished with permission. Like what you read? Subscribe to the
SFRB's free daily email notice so you can be up-to-date on our latest articles. Scroll up this page to the sign-up field on your right.