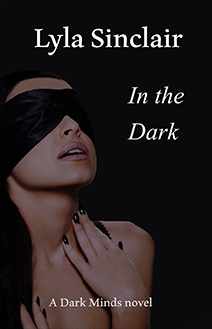 Our instinct is to always protect ourselves from harm, even if those hurts are purely of the soul.
I was very skeptical when I read the synopsis. Now, I can say for sure that this novel is not for the faint of heart. Readers who enjoy erotic romance, but don't enjoy extreme and dark erotic, will likely not enjoy this one. In the Dark mostly certainly qualifies as a dark erotic novel with an added mystery and suspense. The mystery and suspense is more about the past but it influences the present.
Ana's past has never really left or rather she hasn't been able to let go of it. She has a successful professional life. Even if certain aspects of her profession are affected by her past, she's been able to build a successful career. Her personal life is a whole other matter.
Damien had a rough life thanks to his crazy mother. He is a self-proclaimed hermit because of a disfigurement that occurred when he was a child. He never goes out, but because of his intelligence he has money and time. He can do anything he wants. It made it a little unbelievable for me that in all these years he never really went anywhere. But being an only child may have made it a lot easier to feel comfortable without needing companionship.
Damien and Ana's past made them who they are and it's also what makes them a great couple. They understand each other a lot better than anyone else would have. Damien's disfigurement makes him a lover of the safety that the darkness provides while Ana's encounter with a stranger as a child, makes her fear the darkness and what it holds.
Ms. Sinclair did a great job with the plot. But I think the characters are not that easy to understand. For example, Damien is very, very adamant that Ana will hate him and even be repulsed with him when she sees his face. It became a little repetitious. Likewise, when Ana was asked about what else happened with her when she was a child, she was adamant that nothing happened. Her denial of what triggered her issues with the dark was a little over the top. It was refreshing when she finally admits to the reason behind her very legitimate fears.
Ana and Damien's relationship started out through online chatting. I think that played a big part in not only getting them together but also in their trust with each other. They had time to bond outside of their 'normal' world. The mystery and suspense had me hooked right until the end.
Editor's note:
This article was originally published at Long and Short Reviews. It has been republished with permission. Like what you read? Subscribe to the
SFRB's free daily email notice so you can be up-to-date on our latest articles. Scroll up this page to the sign-up field on your right.