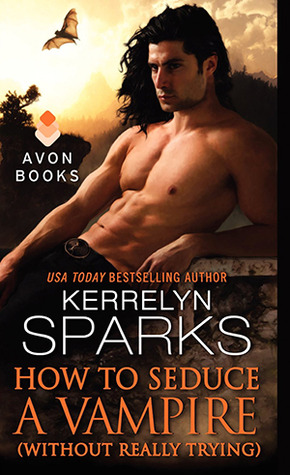 Shangri-La meets the undead, the wonder begins and Zoltan gets beat up by his own version of Xena, Warrior Princess. What's not to like?
The first chapter lured me in with a giggle. The second ensnared me with a noble quest and by the third chapter I was getting dizzy from delight. Nothing challenges a man more than a woman who thinks she can best him in seduction because he's bound to turn the tables and in the end they both are seduced by one another. Nothing intrigues a person more than a secret and the desire to solve the mystery. It certainly worked that way for the hero, Zoltan, and it worked that way for me. Once the plot started moving, the author kept the revelations coming at a fast clip and I couldn't turn the pages fast enough.
The heroine, Neona, was a true warrior who could use a sword, bow and arrow and was a fierce protector of her people. What delighted me was her innocence. How could she be that way? Only by reading How to Seduce a Vampire will it make any sense. Let's just say that Zoltan was in for a surprise.
True to Ms. Sparks' tradition, there is a lot of humor and light hearted interplay between characters – human, non-human and animal. Some of the human/vampire to animal conversations were either funny, endearing, or played a key role in the dramatic suspense that later occurs in the story. It was a clever touch and I was greatly entertained. It also interjected a fresh spin that I truly believe will be felt in future books.
The dynamics between Neona and Zoltan were delightful. I enjoyed watching them fall in love in spite of the drama that went on around them. I liked watching the trust in each other grow and their talks about climaxes and sex gave me the giggles. The hero and heroine were so funny together.
Neona's mother is a paradox. At first I hated her but then I learned her back story and I ended up only disliking her. By the end of the story, I'm not sure how I felt about her. How much of it was fear or zealous commitment or being the holder of power for so long? I'm not sure. She has her good points but maybe I'll know for sure in future books. It might be worth finding out.
Once all the players are in place the action speeds up. Actually, getting all the players in place was frenetic, chaotic and dizzying. Nima might have been right about one thing – men are trouble. And Zoltan's popping in and out, in and out, kept me wondering why that poor man wasn't too pooped to whoop. Where'd he get all that energy? Why didn't he get wiped out? He couldn't have been functioning solely on the power of love, could he? I'm not sure but all that zooming around seemed just a bit over the top and was edging towards comical. Granted, the nemesis they were fighting wasn't comical at all. That was taken seriously and created wonderful suspense and drama. So much so, I had to put the book down to take a short breather. But my overall impression was that I was reading a Marvel Comic wannabe. Not that that's a bad thing – they're usually full of adventure and heroes and How to Seduce a Vampire certainly is too.
I enjoyed the dialogue, was entertained by the mystery getting solved and now am left worrying about the kidnapped child. I really really hope Ms. Sparks has an HEA in the offing and whatever story it gets told in, that it doesn't get too dark. I'm sensitive when it comes to kids. And this one is rather special.
This latest adventure in the Love at Stake series has many aspects that I've come to expect and enjoy after reading so many of the novels. How to Seduce a Vampire continues the tradition of a well told, entertaining read that should please fans of the series. It also presents intriguing new possibilities, problems and challenges for my favorite vampires and their loved ones. There is a returning bad guy that makes my ears steam and I hope the author gets rid of him fast. He's bad news. The good thing about this book is that it's also perfect for new readers. I think they're going to be in for a good time if they choose this book for the first one.
Editor's note:
This article was originally published at Long and Short Reviews. It has been republished with permission. Like what you read? Subscribe to the
SFRB's free daily email notice so you can be up-to-date on our latest articles. Scroll up this page to the sign-up field on your right.