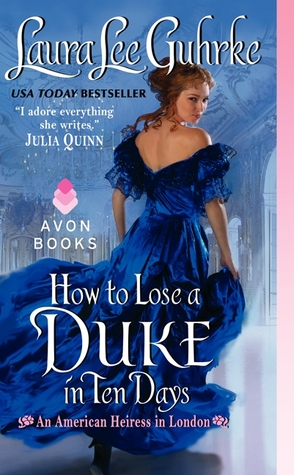 When the Duke of Margrave returns to England after a five-year absence, no one is more dismayed than his duchess.
I loved the beginning of this novel. The prologue, focusing on the hero's grave condition in Africa, pulled me in right away. As the story begins and we flash back to how Stuart and Edie met, it isn't hard to figure out, from the hints the author drops along the way, what happened to Edie in New York that makes her so eager to marry and stay in England. The bargain she strikes with Stuart—a marriage of convenience where she contributes her dowry and he contributes his absence—becomes all the more heartbreaking because of that history, and I settled in for a soul-deep romance as Stuart returns from Africa to woo his bride.
I also loved that when Stuart does return to England, he's honest with Edie. He tells her from the beginning that he wants to have a real marriage. She, on the other hand, wants to keep her life as it is—under her own control and without interference from him. At an impasse, they strike another bargain: He has ten days to win her over. If he succeeds, she becomes his wife for real; if he fails, he disappears. It's a cute concept, but given how traumatized she is by her past, I thought it made for a strange dichotomy in the story. The contrast between his lighthearted, teasing pursuit of her, and the horror she feels at any reminder of what happened in New York, was a little too stark for me. She didn't tell him about her past, so it's perhaps not fair to blame him, but I couldn't help feeling unsettled by the way he manipulates her into situations she's not comfortable with, all in the name of awakening her desire for him.
The author does a good job of bringing the two sides of the story together at the end, which helped me get past the uncomfortable middle section. And if I didn't quite find the serious, heartfelt romance I was hoping for, I did find an enjoyable one. As far as historical details, the story sometimes feels like an American approximation of Victorian society. Dukes, earls, and marquesses are thick on the ground, masters are friends with their servants, and characters frequently use modern phrases. But those quibbles aside, How to Lose a Duke in Ten Days is an entertaining read that any historical lover should enjoy.
Editor's note:
This article was originally published at Long and Short Reviews. It has been republished with permission. Like what you read? Subscribe to the
SFRB's free daily email notice so you can be up-to-date on our latest articles. Scroll up this page to the sign-up field on your right.