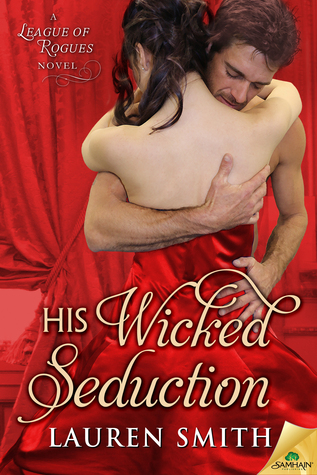 The heart wants what the heart wants. Horatia has been in love with Lucien from the moment he played hero to her young heart. Now she's a woman on a mission to convince him that they have a love worth facing the League's most treasured second rule over. If her brother doesn't kill him first.
There's something about a good regency romance that draws me into the time period wishing to attend a beautiful ball or a holiday house party. Ms. Smith painted the London city streets and the bawdy entertainment district with such clarity. I could picture myself in the elaborate homes as well as the dark pleasure gardens.
I loved the spirit and tenacity Horatia shows in her pursuit of Lucien. He's downright mean to her sometimes but it's clear he's fighting his own attraction. He doesn't think he's worthy of someone so pure. Luckily for him, Horatia doesn't have the same hangup and she has no problem taking charge. Actually, one my very favorite scenes in the book is when Horatia truly takes charge. Hot, steamy goodness.
There's a bit of intrigue in this book that likely originated in the first book in the series. A very bad man has it out for the gentlemen of the League and he's intent on revenge. This man has no boundaries when it comes to evilness. His plan really starts playing out towards the end of the book and there's a situation that had me a little perplexed. Without giving away major plot lines, Lucien is hurt and Horatia and her brother, Cedric, are in danger. There's a lot going on in the scene but at one point, after she'd just been rescued by Lucien from a burning cottage, he goes back in to find Cedric. She comes barreling back in to rescue them both. There are a lot of characters available in this section, many grown men including Lucien's brothers, who could have been a part of the rescue. It didn't make sense that she would be the one to go back in after having just been brought out unconscious. Because of the way men during this time period tended to shelter and protect their women, it felt out of character for her to be in that position.
Truly, it's a short scene compared to the rest of the book. What happens after the fire pulled me right back into the story and held me to the end. It also has me anticipating the next book. I have to know how it all plays out. Especially for Cedric.
Readers who enjoy the regency era stories with some a dash of spice and intrigue will find lots to enjoy in this novel. Personally, I'm going back to read the first book, Wicked Designs, to see how Emily and Godric found their HEA. If it's as tension filled and exciting as His Wicked Seduction, it's going to be another good read.
Editor's note:
This article was originally published at Long and Short Reviews. It has been republished with permission. Like what you read? Subscribe to the
SFRB's free daily email notice so you can be up-to-date on our latest articles. Scroll up this page to the sign-up field on your right.