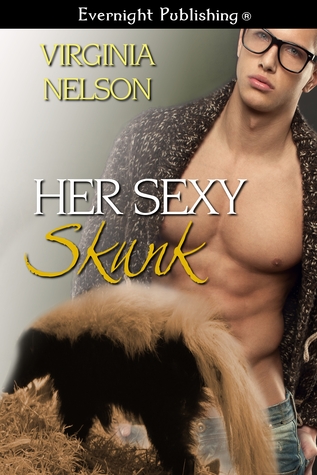 The title alone made me giggle, the blurb intrigued me but the story thoroughly entertained me. I really liked the whole progression of Her Sexy Skunk.
For readers who like the premise of friends turned lovers, Her Sexy Skunk delivers. For those that like geeks turned heroes, this little book has that too. There is so much to like in this tale, I totally enjoyed myself.
Chrissy is a wannabe romance writer, specifically a paranormal romance author, but there's a couple of roadblocks to her dream. She doesn't know a thing about actual romance because she's never been in love, and she can't seem to put her own stamp on a paranormal theme because she doesn't have anything to research. It's all fantasy, right? The heroine doesn't count on the fact that shifters are real and they intend to kill her. How did a bookish heroine become embroiled in were-politics? I really liked what Ms. Nelson came up with.
Ollie is not a common name but it fit the hero. He certainly comes across as timid initially, but when Chrissy is in danger his inner beast isn't afraid of protecting the woman who he believes is his own. Personally, I adore skunks – I think they're cute, cuddly and I love how they waddle as they walk. But, I also know that they are not passive little bundles of fur – their spray can blind and their claws can rend and tear with efficiency. So, a wereskunk isn't that far of a stretch for a hero – it just means he's doubly cute and impressively aggressive when he needs to be.
The only thing that I wished was different would be how Professor Snipper was handled. References about the teacher are what started the plot moving along but that thread got dropped midway and was not picked up again. Why would Chrissy's comments cause her the problems they did? What was really going on with Mr. Snipper and why would anyone mention anything on a public forum if humans weren't supposed to know anything at all? Those loose ends and unexplained relationships plagued me but as this was a short story, I'm guessing they were sacrificed so that the story remained focused on the growing romance between Ollie and Chrissy.
I enjoyed the sensual buildup and the start and stops of their relationship. They're both unsure, yet it's clear the attraction is simmering and about to boil over. When it finally does, I was tickled with the vehicle the author chose to get them together. Childhood games aren't always restricted to kids and the results were fun and sexy.
Her Sexy Skunk is cute, sensually pleasing, sultry yet amusing and is a book easy to recommend to other readers. The ending is a happy for now because I think there's a bit more hanky-panky that needs to happen before the final HEA. I'm left in no doubts that it's going to happen though. Ollie and Chrissy are good together. Her Sexy Skunk is lighthearted and charming and a nice story to spend an afternoon with. I'm happy I did.
Editor's note:
This article was originally published at Long and Short Reviews. It has been republished with permission. Like what you read? Subscribe to the
SFRB's free daily email notice so you can be up-to-date on our latest articles. Scroll up this page to the sign-up field on your right.