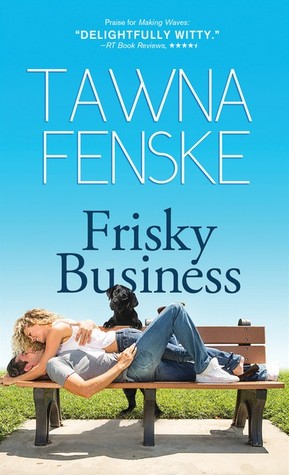 Just when the heroine, Marley, makes a vow, Fate laughs and throws her a deliciously quirky curveball in the form of William Barclay the Fifth. What follows is an adorable and grin inducing romance worth every turn of the page.
I enjoyed watching Marley date all the lemons before she realized her tall cool glass of yummy lemonade was right in front of her the whole time. However, a couple of those loser dates provided some terrific entertainment and wonderful dialogue and visuals, not to mention opportunities for Will to save the day. The heroine has some daddy issues which pale in comparison when I met her mom. Wow, talk about creative dysfunction!
Marley also has this really cute habit of memorizing the most trivial of animal facts. It provides levity and at a particular special moment, provides a sweet lead in to their HEA. In fact, the habit of Will's use of Cheez Whiz is quite endearing and a clue as to the progression of their non-relationship. The author imbued each of her characters with very specific personality traits that gave them more depth and increased my enjoyment in getting to know them.
As for Will, his being rich is a novelty. Not the fact that he was rich but the HOW of it – I've never seen it done before and I liked that twist. It made his attitude believable and even though his bucking the system was in earnest, he was cute about it and I couldn't help but like him. He really was the perfect match for Marley.
The only thing that had me twitching to give a Billy Idol lip curl every now and again was all the references to Will's sister's lifestyle. The euphemisms initially were cute and clever but there were too many of them for my taste and after a while they ceased being cute and morphed into plain old annoying. Okay, I got it; don't beat me over the head with them. It was during those times that Will's character seemed less of a man and more of a convenient platform or sounding board for making a point. If there had been fewer references, the quips would have continued being cute, loving and fun, like being on the inside of a family joke. But, alas, that's not how it left me feeling.
The saving grace is Magoo. I adored Magoo. I really appreciated how Ms. Fenske wove his cuteness into the story and my heart. I enjoyed all the details and shenanigans he got into and I think it made this story that much more entertaining.
Frisky Business is a delight. With eccentric characters, a heroine who is trying to fall in love with the wrong guy and has the strangest things happen, and a hero that pulls off wearing slippers at inappropriate times, this is a story that delivers smiles and a sweet romance.
Editor's note:
This article was originally published at Long and Short Reviews. It has been republished with permission. Like what you read? Subscribe to the
SFRB's free daily email notice so you can be up-to-date on our latest articles. Scroll up this page to the sign-up field on your right.