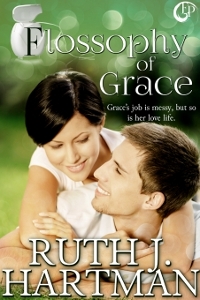 Will Dr. Beeth crush Grace's chance for romance?
Grace is very sweet and probably the most patient woman in the world. No matter how difficult her patients are, she manages to handle them without losing her temper. She even manages to do it all with a smile plastered on her face. As if snippy patients weren't enough, Dr. Beeth, her boss, is beyond difficult. Horrible doesn't even begin to describe the way Dr. Beeth treats Grace. He belittles her every chance he gets. Grace's only flaw seems to be her low self-esteem, and with Dr. Beeth harping on her year after year, Grace definitely needs a boost. When Grace finally meets a guy who makes her heart skip a beat, Dr. Beeth strikes again. Will Grace finally stand up to her boss, or let love slip through her fingers?
Bruce and Grace are a great couple. They kept me chuckling throughout the book with their goofy jokes and teasing. It is clear that they are both are head over heels for each other from the moment they meet, and Bruce does some pretty crazy stuff in order to be with Grace. I found his actions a little hard to believe at times, but they were such a cute couple that it was easy to set aside my doubts and enjoy their romance.
I do wish there had been more explanation as to why Dr. Beeth was so mean to Grace. I understand some people are just nasty in general, but Dr. Beeth seemed to single Grace out quite a bit. As I read, I kept expecting some clarification regarding his treatment of her, but it never happened. Consequently, I found Dr. Beeth's violent and irrational behavior simply absurd.
I also would have liked some of the secondary characters to be more rounded. All the good characters were very good and the bad characters were uniformly bad. The story would have seemed more realistic if some of the other characters would have had a bit more depth.
Despite this issue, I enjoyed reading Flossophy of Grace. It is fun, sweet, and easy to read in an afternoon. Looking for a light romance? Check out Flossophy of Grace.
Editor's note:
This article was originally published at Long and Short Reviews. It has been republished with permission. Like what you read? Subscribe to the
SFRB's free daily email notice so you can be up-to-date on our latest articles. Scroll up this page to the sign-up field on your right.