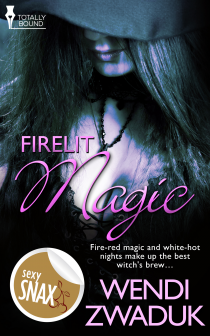 After her partner at Miss Scarlett's Potions finds true love, witch Cian Roston wonders if she will ever find someone of her own to love. When black cats start disappearing, the police come to call, in the person of Tommy Barnes. After deciding that Cian is innocent of things she has been accused of, Tommy discovers he is attracted to Cian. Both Cian and Tommy have been hurt before, so they decide to take things slowly. When it becomes clear someone is targeting Cian and trying to run her out of town, Tommy decides to do what he can to keep her safe. As things heat up between Cian and Tommy, so does the campaign to ruin Cian's reputation. Can Tommy find out who is behind the cult that has targeted Cian before someone gets hurt? Can Cian accept the love that Tommy offers her? Can two wounded souls find happiness and healing in each other's arms for a forever love?
Firelit Magic is Wendi Zwaduk's second visit to this world of romance and magic she has so skillfully crafted. It is a world where witches are part of the world at large, and mostly accepted by society. The characters are well defined and very likable, and the world is one I would like to continue to visit. I like the interplay between the lead characters, and like that the secondary characters are people I've met before and also liked.
Cian Roston is a witch. She is strong and independent, and caring and sensitive to all living things. She rescues black cats, because she believes they have gotten a 'bad rap' over the years. She watched as her best friend found her soul mate, and wants to find one of her own. I like that she was not intimidated by those who want to cast her in a bad light, and like her spunky attitude in protecting her charges. I enjoyed watching as she tried not to fall for Tommy, and was happy to see her decide to take a chance on him.
Tommy Barnes is strong, honest and determined. He likes being a cop, and is determined to get to the bottom of what is happening with Cian. After all, just because she is a witch doesn't mean she is stealing or killing the black cats as she is accused of doing. Even though he is attracted to her, he still doesn't believe a witch and a cop should be together. I liked that Tommy was open minded enough to decide to ask for a date with Cian, to get to know her better. I enjoyed watching as Tommy discovered that there was much more to Cian than just being a witch, and that he was willing to give a relationship a try after all. His surprise at her powers was such fun to watch.
There is a dark side to this story, as the leader of the cult tries to incriminate Cian in order to force her to leave town. And the surprise of who that leader was, is something I will not reveal here; if you want to know who was behind much of the evil doing and treachery, I recommend you read this one. The chemistry between Cian and Tommy builds exponentially, and I enjoyed Tommy's shock when Cian actually glows during their romantic and hot interludes. This is for those who like their romances magical and hot, and be sure to keep tissues and ice water nearby.
Editor's note:
This article was originally published at Long and Short Reviews. It has been republished with permission. Like what you read? Subscribe to the
SFRB's free daily email notice so you can be up-to-date on our latest articles. Scroll up this page to the sign-up field on your right.