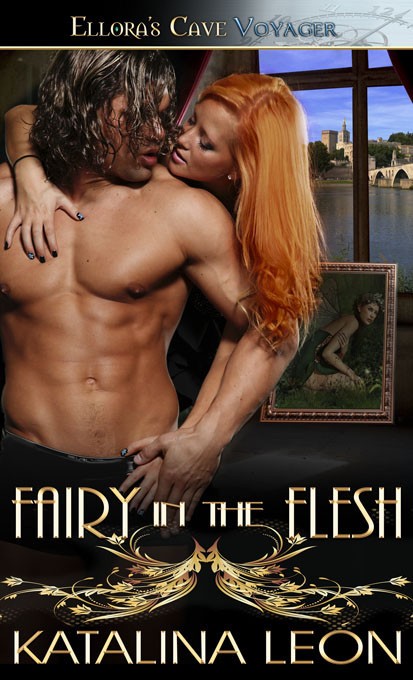 This was a refreshing time travel story because it didn't take itself too seriously with paradoxes and worries about exact science or ripple effects in time. What was relevant was the romance between André and Maya – how they met, what they did and how their love grew. It's a story of two people whose only difference, besides being man and woman, was being born in a different time and country.
I have to smile because all the tricky explanations of how many things are able to happen in the first place can be summed up in one word – magic. The author had fun wrapping the fabric of time around her finger and created a very interesting world of possibility. It's said that with all things, love makes the impossible, possible. Ms. Leon certainly explored the sticky wicket of what happens if someone says or does the wrong thing back in time and affects the current time. I liked what she came up with. It was inventive, unique and although some critics would say it was a trifle too pat, I say, it's magic, and magic defies logic. So just sit back and enjoy a good tale. The author delivers some solid entertainment in Fairy in the Flesh.
I enjoyed how André's character was depicted. He's passionate, emotional, but not in a wimpy whiny kind of way, and a lustsome man with strong urges. Yet, he's reverent too and all of that handsome yumminess is focused on Maya. The author wrote some delightfully sexy scenes with a few naughty shenanigans thrown in for extra spice, like a brief moment of voyeurism. There is a BDSM flavor to a couple of the scenes but nothing that falls into the standard definition of that kind of relationship. I liked how carried away they sometimes got as well as how each encounter sparked a creative genius in the hero and a strengthening love in Maya. In essence, they were seducing each other.
The ending is a sweet happy ever after. The difference Maya's love had on André is never more clear or as profound as what is revealed at the end. At one point I was aghast that she was arrested. But never fear. Ms. Leon knew exactly what she was doing and I was wowed by that clever twist. I think it was that part that made this story so much better. I was surprised and emotionally shocked because by then I was invested in caring for the heroine. How could the author DO that to her? The answer was astounding.
Fairy in the Flesh is a good story. It has its surprises but it's the chemistry and fireworks between André and Maya that drew me in and kept me. I loved the descriptions of the magic at work and although it conveniently removed any complications from the lack of logic, I was fine with that. It allowed me to concentrate on the good stuff – the hero and heroine and their fiery, wild and oh-so-satisfying sex life and the proof of the power of love. What's not to like about that?
Editor's note:
This article was originally published at Long and Short Reviews. It has been republished with permission. Like what you read? Subscribe to the
SFRB's free daily email notice so you can be up-to-date on our latest articles. Scroll up this page to the sign-up field on your right.