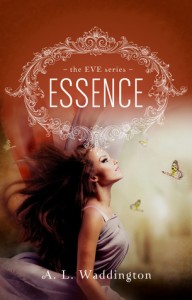 Essence is a novel with a very interesting concept that tells of a genetic gift passed on through family members. Jocelyn Timmons is a normal high school student in the year 2009. When a new neighbor moves in by the name of Jackson Chandler, her life changes to something more than normal. Just the simple touch of Jackson causes Jocelyn to faint. During the fainting spells Jocelyn's find herself living in the year 1878.
This is a deeply enjoyable novel that shows the author's superb talent at story telling. I found the story fascinating and a joy to read. Such a warm romance with a speck of time travel and a mystic plot. Jocelyn's family and friends are very concerned because the fainting seems to be happening more often. Jocelyn has narrowed down the cause of her fainting spells but never reveals her assumption to anyone. For Jocelyn to have such close family and dependable friends it really bothered me that she felt she could not confide in anyone about what was happening to her and what she was experiencing. During this time of the novel it seem to be long and slow. At some point after so many fainting spells I was wishing she would please tell someone so we can get this story moving along.
The 1878 story did not really seem to revolve around Jocelyn, instead it was more her brother William and her best friend and neighbor Olivia. I found this part less interesting as it was long and drawn out. Still, I continued to read to see how it all tied in. The author went into quite a bit of detail in the sub-story of William and Olivia and after reading it I was left wondering why was so much time spent on telling their story? After reading through Jocelyn's brother story the novel continues and the 1878 Jocelyn finds out that she too can travel to a future time. By this time it is pretty much explained to the 2009 Jocelyn what is happen to her and why she is able to cross between different time eras. I must mention that the servant's dialogue was hard to understand in the year 1878.
As I stated this is an enjoyable novel, that I found very entertaining. Yes it had a few slow spots but they were never completely boring. The story still flowed and had my attention to continue reading. Without giving away the mystery of EVE, although this is a book of fiction, the explanation and idea really got me to thinking and wondering how neat it would be to live life in two different time eras. I am curious to see how the author carries the story on in the next installment. It is a series that I would likely follow.
If you enjoy a novel of young love, charged with an intriguing fantasy this is a novel you would not want to miss.
Editor's note:
This article was originally published at Long and Short Reviews. It has been republished with permission. Like what you read? Subscribe to the
SFRB's free daily email notice so you can be up-to-date on our latest articles. Scroll up this page to the sign-up field on your right.