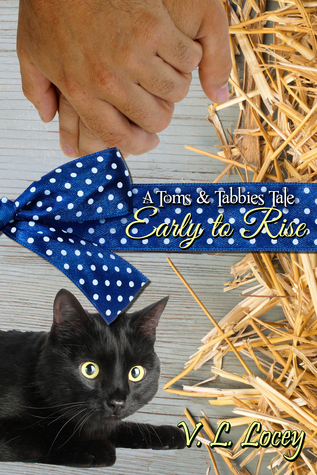 Simon had been jilted at the alter by Richard and then promptly lost his job. With no income of his own, and also the loss of his partner of two years sharing the bills, Simon knows he also likely will soon lose his apartment. Things can't really get that much worse. So Simon decides to relocate out in the country. His Uncle Tiberius owns a farm and Simon recalls having a fun-filled two weeks out there one summer back in his childhood. But of course living in the country after a lifetime in the city isn't as easy as Simon expected, nor was the complexities involved in starting a relationship so far out in the country.
A little slow to begin with, this nevertheless is a good, fun, city-boy-goes-country style story. The beginning – where Richard stands Simon up at the alter, followed by his outrageous scene leaving his job and making the decision to move to his Uncle's farm is all well written and really fun to read. But I couldn't help but feel while reading this first third of the book that this was all "background" material. A quicker, pass through these scenes – amazing as they were – would have sat better with me and given us a faster opening to Gentry and Simon's introduction and the true plot unfolding. I enjoyed seeing Simon go through the pain and heartache, but felt impatient for the "real" story to begin. This could have just been me though, and other readers might prefer the meandering way the plot moves and taking their time to come to the real relationship here – Simon and Gentry. They don't really kick off their relationship until half way through the book, but some readers might enjoy this slower pace.
Once Simon and Gentry started to become involved, I found the story to be both funny and romantic. Their relationship progressed at the same slow, easy mosey as the rest of the story does, so the story is quite consistent in its pacing. I would strongly recommend this story for more traditional romance readers who like a lot of character development and time spent with their plot being fleshed out. This would be an excellent introduction-style story for readers new to M/M romances in my mind. There is only the one erotic scene, right at the very end of the story (and a few chaste kisses scattered through the last quarter of the story) and there is nothing in it that I feel pushes the envelope or is outrageously explicit. As such, straight romance readers looking to dip a toe into erotic literature (and/or M/M romance) should be warmly satisfied with this as an experimental try.
Both Simon and Gentry's characters are well explored and the romance between them is tastefully written. I found the pacing a little slow for my personal preference, and would have liked a bit more spice to an erotic story, but I can't fault the plot, characterization or warmth infused in this fun, lighthearted story. I also enjoyed the author's voice – this is a good story told in a humorous, friendly fashion that is as addictive as it is fun. A good read I thoroughly enjoyed.
Editor's note:
This article was originally published at Long and Short Reviews. It has been republished with permission. Like what you read? Subscribe to the
SFRB's free daily email notice so you can be up-to-date on our latest articles. Scroll up this page to the sign-up field on your right.