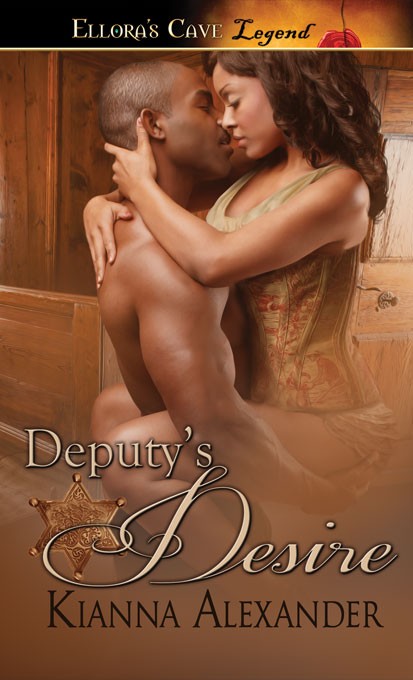 Deputy's Desire opens up during the lunch rush at Decklin Cafe, which is owned by Leslie Decklin and operated by her son Brian. Brian isn't the friendliest boss, nor is he the fairest to his employees. He finds favor with young Maggie and deeply resents his mother for hiring lowly ex-prostitute Suzanne Evans.
One night, Suzanne is doing her nightly closing duties at the cafe and notices a fire has started. She runs to the local sheriff office to notify them of the fire, and during her running she cuts her foot pretty badly. Brian blames Suzanne for starting the fire, causing a conflict between Suzanne and Deputy Andrew Powers, who desires her.
Deputy's Desire is a quick and easy read. It was pretty simple, and there wasn't much depth to the plot. The majority of the story wasn't so much about the mystery of the arsonist but about the desires of Deputy Powers. I enjoyed the author's writing style; how she has the right amount of dialog and narrative summary. Her way of telling a story seemed so effortless and natural. Even with the plot being a little weak the strong writing kept me reading.
I found it surprising how the deputy broke the law by acting on his desires for Suzanne. Yes this is an erotic romance, so I can overlook the part where they haven't built a relationship and only sexual attraction matters, but he is painted as a lawman put in a position to up hold the law not break it because of fleshly desires.
I admire the author for mentioning women in roles such as a lawyer and sitting mayor in her story, set in 1850. I tried not to, but ended up doing a Google search and found that the first female lawyer wasn't until 1869 and the first female mayor wasn't recorded until 1887. Also, the author mentioned (blue) jeans and a Google search shows jeans were invented in 1873. So, these historical anachronisms bothered me a bit.
The plot wasn't complex, but the author definitely has a talent for writing and telling a story. Yes a few things bothered me, but I have read other novels by this author that were very enjoyable and I will continue to read the author's future work.
Editor's note:
This article was originally published at Long and Short Reviews. It has been republished with permission. Like what you read? Subscribe to the
SFRB's free daily email notice so you can be up-to-date on our latest articles. Scroll up this page to the sign-up field on your right.