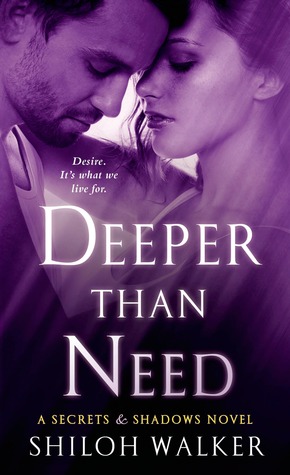 Trinity Ewing is trying to put her troubled past behind her. When she moves into her new house, she has no way of knowing she's moving out of the frying pan and into the fire.
Noah Benningfield has troubles of his own. His demons haunt his dreams and waking hours. When he sees Trinity, he thinks maybe there is a chance to find something more.
Deeper Than Need had a good premise. Two characters with haunted pasts coming together in a house with a less than savory history. Trinity needs a new start with her son and Noah wants to silence the voices that keep him up half the night. Organizing the clean-up and repairs for the old Frampton place, the two find the past is very much alive-or dead if you count the body waiting for them underneath the floorboards of the house.
Just like that a local murder is discovered, and with it the door to the past is wrenched open. Two wounded characters fumble their way through attraction, murder, taking care of Trinity's son and the deaths of kids under Noah's protection. The story spins up and the plot has some interesting twists. Bodies. A murderous history in Trinity's new house. Missing kids. Missing women. Addiction. Coping. Random sex with people who hate each other.
I hadn't read any of the previous novels/novellas in this series. From the start I felt like I was missing something. Pieces that should have made sense didn't as a stand-alone book. The other issue I had was I could not connect with the characters. They were not relatable to me. I tried to like Trinity, but ended up being annoyed with her most of the time. Her thoughts were disjointed and much of her thoughts about Noah were insipid and repetitive. Noah was much more likeable because of his work with troubled kids, but even still the back and forth of the foreshadowing was distracting. I kept putting the book down and had to struggle my way through to the end.
One thing about the book that did resonate with me was the aspect of healing as part of the reconstructive process. Noah wasn't just there helping Trinity repair her house, a house that held a prominent place in his past. He was rebuilding himself along the way. Trinity was as well. They both had shattered and scarred lives and were desperately trying to build something on a solid foundation. That something just happened to be a house with a body buried beneath it. The love Trinity bears for her son and her willingness to sacrifice herself for his safety was also something I appreciated.
This book is more mystery than a contemporary romance. The mystery and sinister goings on were a good start. Not being able to connect to the people and feeling lost really put a damper on this story for me. If you are going to read it, I would go back and read the beginning. It would have filled in some of the plot holes.
An interesting mystery with some potential as a series.
Editor's note:
This article was originally published at Long and Short Reviews. It has been republished with permission. Like what you read? Subscribe to the
SFRB's free daily email notice so you can be up-to-date on our latest articles. Scroll up this page to the sign-up field on your right.