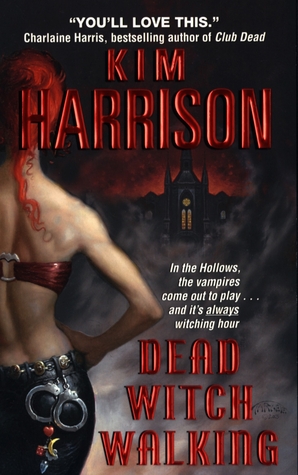 If only there was a guidebook for witches under death threats. Rachel Morgan is a witch and bounty hunter with a crappy job. She's been getting the worst assignments for months now and she's sick of it. When her latest prey, a tax-evading leprechaun, offers her three wishes in exchange for freedom Rachel decides to quit her job and strike out on her own. Too bad her employer doesn't let people quit as easily as that and suddenly there's a death threat hanging over Rachel's head. With the help of her friends, vampire Ivy and pixie Jenxs, Rachel decides to take down the city's wealthiest and most prominent citizen. She figures if she can prove the billionaire philanthropist is dirty then the death threat will be alleviated. Unfortunately it's not as easy as it seems.
Dead Witch Walking is the first book in the Hollows series from Kim Harrison. The book is what I consider basic urban fantasy fare and decent enough for what it is. UF is my favorite genre and I've read quite a number of books within this sphere and DWW fits well. It's not especially unique or outstanding in any way, and actually I've read numerous better books/series, but it's ok. There's also a weak, very small potential romance but the focus is urban fantasy and mystery, not romance. The world building is interesting, though not developed enough, and the narrator is first person through Rachel's POV. The plot to prove the wealthy, local businessman and beloved councilman is actually a dirty drug smuggler is good enough to carry the story. There's no question of guilt, but whether Rachel can take down her quarry.
Rachel is a frustrating narrator and protagonist and I think a reader's enjoyment will hinge on her likeability. Reading reviews before I chose this book, most people were split to the extremes of either loving her or hating her. She's a three-dimensional character but a polarizing one for sure. Rachel has a lot of flaws. A lot. She's a very realistic character in that she often jumps into situations with no plans or ideas of how to succeed. She is stubborn, extremely reactive, and often quick to dismiss or ignore her friends and their advice. Rachel's knows best all the time, even she actually has no clue and is making all the wrong assumptions/conclusions. Except she never thinks she is wrong. Even when she is at fault, she apologizes but is quick to want to move on and shift the focus/blame. I found her annoying and rather stupid. I struggled to care when she would foolishly rush in to situations without planning or thought and unsurprisingly bad things happen. Some readers may find this charming since Rachel is by no means a kick ass heroine. She mostly bungles her way through things with a single-minded focus and then is rescued by her friends.
What I actually liked most about the book was the supporting cast. I found Jenxs particularly adorable and I liked the dark struggle Ivy fought almost daily. While the pace is rather slow for the book, I found the focus on the secondary characters, even including Nick, enough to help keep my interest and alleviate some of the frustration I had with Rachel. I listened to the audio version and the narrator did a decent job with the voices, although she had a very odd way of emphasizing breaks where there shouldn't be. For example the narrator would say a sentence "She walked (pause) into the hallway." I'm not sure why she would pause in the middle of the sentence where no comma or punctuation break exists but she did. It's a testament to the slow pace that I focused on the narrator sometimes rather than the story but I liked the voices she did for the characters and the cadence/tone of the narrator's voice.
Overall I found this to be a readable book in the genre but not something especially memorable or interesting. Those that find Rachel a more charming and winsome heroine will definitely be more engaged but I liked it enough to continue with the series for now. I'd cautiously recommend this but only to those readers that like heroines on the softer, more realistic and less "kick ass, take names" side.
Editor's note:
This article was originally published at Long and Short Reviews. It has been republished with permission. Like what you read? Subscribe to the
SFRB's free daily email notice so you can be up-to-date on our latest articles. Scroll up this page to the sign-up field on your right.