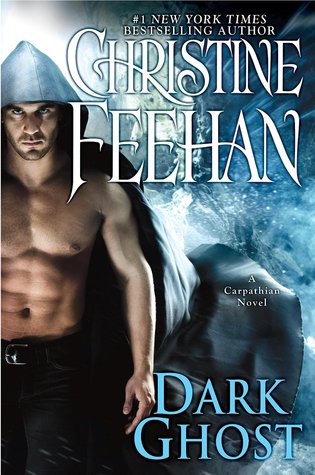 Get ready for a full on romance with Ms. Feehan's latest, Dark Ghost There is the requisite bad guy to spice things up and provide a bit of drama and suspense but the focus is most definitely on Andre and Teagan. This is also a book that is perfect for readers who've never read any of the previous Carpathian novels because this story is 100% a standalone read.
Teagan had quite the learning curve ahead of her. I enjoyed her unique talents and her sense of humor. I also liked how the author had the heroine express her many reasons for falling in lust, then in love, with the hero.
Andre is a typical Carpathian alpha male, but he is so smitten with his lifemate that he will do anything to make her happy. That was very romantic.
There are a few bad guys that pop up to keep things interesting at various points in the story. All of them get their eventual comeuppance and I was very happy to see that. I was also gratified to see that the heroine got through to the hero and they eventually became a team instead of Andre's initial caveman tactics. They both matured in their relationship, with a few near misses, until their love was a thing of beauty.
When I said this was a full on romance, I wasn't kidding. Usually there is more meat to the plot of Ms.Feehan's books but this one seemed to focus only on their romance. It's hyper-focused on him learning to bend a little, and on her following his orders a bit more often than not. Teagan has a tendency to being obstinate and stubborn. And, hot and spicy bed scenes pepper the entire novel, so much so that I felt like I over indulged on dessert and forgot about the main entrée of a meal. Considering Andre's age and all that, I expected more substance of a plotline especially when the hero has the nickname of 'ghost'. I mean, the history behind his ghost handle is a bit sad, and that aspect made the hero more rounded while giving his character more depth, but the author really didn't take it anywhere. She focused strictly on a man and a woman from different cultures coming together, and his seduction and kisses were the bridge between the two. I felt a bit let down because I like my stories to have a bit more substance and conflict to make their passion more powerful and a must read. As it was, I sort of lost interest in the sex after a while. I prefer the excitement of action and adventure against the challenge of incredible odds, not a litany of see-sawing emotions, followed by steamy clinches and 'all is right with the world', until the next revelation that makes Teagan mad at the hero, again.
A bright piece of intrigue was the monastery and Teagan's belief that a special stone is going to help others when nothing else ever had the power to do so before. What does she know? What will her discovery do? And who will be the next hero; the one who came out of nowhere? That in itself is enough to ensnare my imagination. Even though this book wasn't as exciting as some I've read in the past, it was still fun and entertaining, and Ms. Feehan definitely set her hook nicely. I am actually looking forward for the next book in the series. Unfortunately for fans everywhere, it's not going to get published fast enough for us. I really do enjoy those alpha Carpathian men.
Dark Ghost is a good read with a well written romance between two unlikely people. Andre does his thing, and Teagan does hers. If a reader is looking for a character driven romance without a lot of external conflict, just enough to keep Andre on his toes, then this is a solid choice. And if a reader is interested in more background about Carpathians in general, the author included an extensive listing of Carpathian info at the end of the book that might be helpful for new readers. All in all, I'm glad I read it.
Editor's note:
This article was originally published at Long and Short Reviews. It has been republished with permission. Like what you read? Subscribe to the
SFRB's free daily email notice so you can be up-to-date on our latest articles. Scroll up this page to the sign-up field on your right.