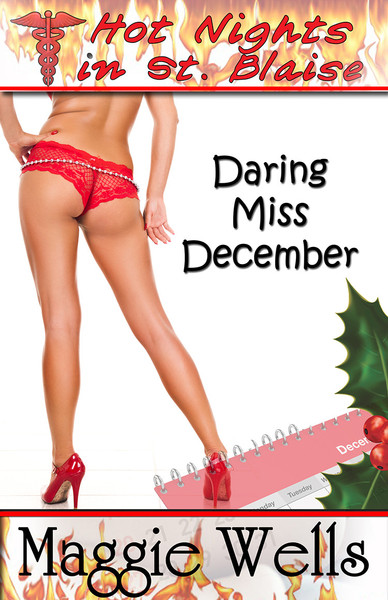 Dr. Oliver Watkins can't stop glancing at his watch, wishing away the hours until 2pm arrives. For it's after two that Anne Silverstein – the small hospital's part time dietician – starts work. Oliver had worked up the courage to consult with Anne, but decades of being a straight-arrow, and a perfect, pristine gentleman just like his late wife desired him to be couldn't come crumbling down all at once. Oliver had a battery of tests run and discovered his cholesterol was slightly above the average. Using this thin excuse, he sets himself purposely in Anne's path, hoping to get to know her better and start a relationship with her. Even though they are carrying hurts from the past, the sizzling attraction can't be denied, and all too soon Anne wonders just how two such different people can build a future together.
I loved the concept of a nudie calendar to link together all the characters. Miss December is a firecracker. Long past her first blush of youth, Anne is a saucy, no holds barred character that just leapt off the page at me. Comfortable in her own skin, proud of her wrinkles, extra pounds of flesh and grey hair, Anne is a woman who knows herself and knows exactly what she wants. Although she's fantasised about Oliver, he's never given her the slightest inclination that he's interested. So when she sees through his platonic request for a consultation things get heated very quickly. The author does an awesome job of making Oliver and Anne three dimensional characters. They're not just cookie cut outs, or a doctor and a dietician with a few quirks thrown in. I feel like the author really spent time and effort to flesh them both out. We learn a lot about Oliver and his history, on how he became the man he is now. And the same thing is done with Anne. They're well drawn characters with complex personalities and their own set of baggage. Yet I still found their coming together romantic, funny and hot, it was a delightful mixture of realistic and romantic fun.
I also really enjoyed how neither Anne nor Oliver are the traditional twenty or thirty something characters. It's refreshing to read about middle-aged heroes and heroines, about how love can come a second time around to people. And while Anne might not be swinging from the chandeliers and Oliver mightn't be going six times in a row each night – they can certainly still get hot and dirty, steamy and expressive in their sex! Both Anne and Oliver have issues from their past, and together they work them through. While there isn't much plot outside their characters, coming together and working on their relationship, this is a heartwarming story with a healthy dose of sizzling sex.
I found the erotic scenes tastefully written, something I'd share with good friends and maybe even female relatives. There's nothing outside the box, nothing to hide or blush over reading – though the scenes are graphic in nature. I would have enjoyed a bit more plot, but for a character-based, erotic book I felt this ticked most of the boxes for me. I'm pleased to have read a number of this series and can strongly recommend both the author and this calendar based series.
Editor's note:
This article was originally published at Long and Short Reviews. It has been republished with permission. Like what you read? Subscribe to the
SFRB's free daily email notice so you can be up-to-date on our latest articles. Scroll up this page to the sign-up field on your right.