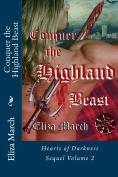 It's not too often I get a chance to read about a Highland vampire berserker with a honor streak a mile wide, but that sums up the adventure told about Dylan Macgregor. It's a very interesting tale.
Although the blurb makes the story out to be one specifically about the romance between Dylan and FBI special agent Caitlin Donovan, it is really all about Dylan. I met him in Defeat the Darkness and he certainly piqued my interest then. What follows in this story, Conquer the Highland Beast is as thorough a picture as I could have wished of just who and what Dylan is. He's complicated.
The novel starts off with a crime and it sets the stage for the two protagonists to realize that they are something 'more' when they are together. It was a good attention grab and I liked the way they interacted, enough to find enjoyment in the anticipation of watching their romance unfold in the middle of what surely would be a fascinating romantic suspense story. That's not quite how it works.
The author takes a reader on an historical side trip to learn just how Dylan came to be the man the heroine eventually meets. It's in the guise of getting Max, a secondary character, up to speed because his survival depends on it. Ms. March presents a very intense, well detailed backstory of Dylan's being orphaned, of his first love and his eventual meeting the two people who would change his life. This sub-story took over the book.
In Dylan's backstory, I learned how and when he met the villainess of the first book. I know that this is the second book in the series and should be read after the first book but honestly I don't think it's a requirement. There wasn't enough woven in from the first book to make a new reader confused in this one, like they were missing a punchline or something. I believe this novel really could stand on its own. Another reason is this – someone who read Defeat the Darkness might actually become perplexed by the realization that the villainess from the first book isn't so crazy, bloodthirsty and vicious not to mention mean as in the first installment of the series. Was it because of who she was with? Did he keep that part of her tamed? Perhaps the author has a secret agenda for the future and this is another puzzle piece but all I know is that I was confused. It wasn't enough to detract from the enjoyment of the story but I have to note that it felt like an inconsistency. A new reader wouldn't have this issue, which is why I suggest this story could be considered a standalone read.
The most sex occurs with the trio, Dylan, Amyra and her companion, as they obtain something from Dylan for some mysterious purpose. It's quite busy and intense. When the book refocuses on the present, the sexiness is more fun because it's Caitlin and Dylan teasing each other with mental pictures of what they'd each like to do to the other. The sensual buildup was enjoyable and I delighted in their interaction immensely. When they came together, I was greatly satisfied.
The action of closing a portal seemed to me anti-climactic. Yes, there were action scenes and they were well written and interesting but they didn't seem fleshed out enough because the setup was rushed. I felt that so much attention was paid to Dylan's back story that the conflict and plot that brought Caitlin and the hero together in the first place suffered. It was not explored to my satisfaction and I felt let down. The relationship building between the hero and heroine had tremendous potential. I LIKED them. There were so many things about their dialogue and interactions that pleased me, yet they weren't the strong focus of the novel. True, there is an HEA ending and it was wonderful to see them finally get together and that made me happy, but it could have been more profound and had more impact of I'd have gotten to spend more time with the pair.
Conquer the Highland Beast has a good story to tell. If a reader read the first book and was curious about whom Dylan was, this book answers the question completely. A man is a sum of his history – it's up to the reader to decide if Dylan is the amazing hero I think he is. He has depth and he has purpose and it was fascinating getting to know all about a vampire berserker and the woman who could make him smile. It's worth checking out.
Editor's note:
This article was originally published at Long and Short Reviews. It has been republished with permission. Like what you read? Subscribe to the
SFRB's free daily email notice so you can be up-to-date on our latest articles. Scroll up this page to the sign-up field on your right.