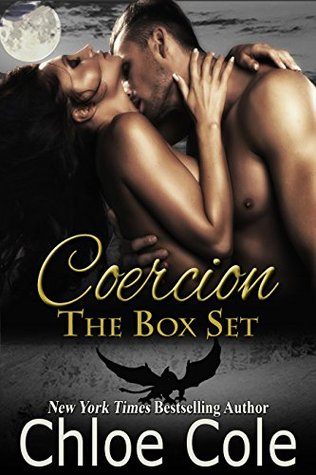 I'm glad I waited until the box set of Coercion came out because I would have been chomping at the bit from those two cliffhangers. This book contains all three novelettes so I could read to my heart's content until the conclusion of the happy ever after and I'm very pleased.
Because they are all together, I'm not going to break them down by book. The overall story is about a woman whose parents use her as a pawn. They practically force her to marry a man unseen, and said woman, Willa, is frustrated, beyond belief. I'd be too. No one listens to her or takes her seriously and I could understand why she tried at every opportunity to get away. It makes perfect sense.
Drake is a hard character to understand, mostly because the author wanted it that way. Doing so made me feel more strongly towards Willa's predicament. Even being in Drake's head, from his POV, I still found that he kept secrets from both the reader and Willa. It kept me guessing which means it kept me reading.
It was easy to follow Willa's path as she fell in love with her captor husband. A reader sees her thought process much more clearly and her insight is crucial to believing the relationship had a chance at success. She might have been a pawn, but she's no pushover. She has a brain and is not afraid to use it. Unfortunately, Drakes brain is a bit distracted, so he doesn't make the best decisions, which contributes to the conflict. This is definitely a character driven romance story.
The one thing that works well between them is their physical attraction and chemistry. A reader is left in no doubt that they are highly compatible in bed. Drake's a bit rough, but he is a dragon after all.
I think the only drawback to the whole story was Drake's stubbornness. It was a bit overwhelming at times to the point where Willa wasn't the only one frustrated. I wanted to knock some sense into the blockhead.
There are only two other secondary characters that are worth mentioning, Greyson, and Etienne. Of the two, Etienne is the more interesting because he's a frenemy. His character is the perfect foil for Drake because he allows me to see a different side to Drake's personality. I wouldn't mind finding out more about the other dragon.
Coercion as a whole is the way to go. It kept me entertained and fascinated. I liked Willa and felt she was the more well-rounded character of the two, enough that I was cheering for her throughout the entire story. The personality conflicts between Drake and the heroine were intriguing and part of its charm. I liked the dialogue and the lair descriptions, especially the chair. That produced a giggle or two.
Coercion is worth recommending to fans of dragon paranormals and readers who enjoy stories whose only focus is on the relationship dynamics between a hero and heroine; on how they overcome their personality differences to discover their happy ever after. It's a fun read.
Editor's note:
This article was originally published at Long and Short Reviews. It has been republished with permission. Like what you read? Subscribe to the
SFRB's free daily email notice so you can be up-to-date on our latest articles. Scroll up this page to the sign-up field on your right.