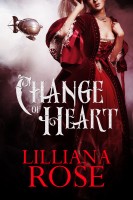 Some people know what they want to do in life right away, but for others it takes time to find their niche. Vickie is part of the latter group. Worse yet, she's only just realized it!
Vickie is an intelligent protagonist who clearly knows what she wants out of life. I didn't always agree with the choices she makes, but I respected the thought she put into them. I felt like I knew Vickie pretty well by the time I reached the final scene, and that isn't an easy thing to accomplish in something this length.
This story is set in the early 1920s, yet the characters behave as though they were living in 2014. There is leeway in the science fiction genre when it comes to predicting how society would have evolved if a few key moments were changed, but it was difficult to believe that individuals living in this time and place would have actually done and said some of the things that happened in the plot. Their speech and mannerisms were just too casual for the time period.
The chemistry between Vickie and George is sizzling. My favorite scenes involve the moments they steal away from his insanely busy work schedule. Their non-sexual interactions tended to be a little brusque at first due to how much time they've spent apart over the last few years, so it was nice to see them get along with one another as they attempted to reconnect.
There were a few different instances when the wrong word was used in a sentence. Every replacement word was real, and some of them were only a letter or two off from what I think the author was intending to say. It was distracting to stop and figure out what the original word must have been, though, and this tale would have earned a higher rating had it gone through another round of editing before it was published.
The disease that is plaguing George's patients is frightening. At first I was surprised by how much time it took for it to become the main focus of Vickie's attention. Building up to this conflict was a good decision, though, as this reader needed that extra time to get to know the characters beforehand. I can't say much more about this subplot without giving away spoilers, but I was pleasantly surprised with how it all played out.
Change of Heart is a steampunk-inspired, science fiction romance that I'd suggest to anyone who is a fan of any or all of these genres.
Editor's note:
This article was originally published at Long and Short Reviews. It has been republished with permission. Like what you read? Subscribe to the
SFRB's free daily email notice so you can be up-to-date on our latest articles. Scroll up this page to the sign-up field on your right.