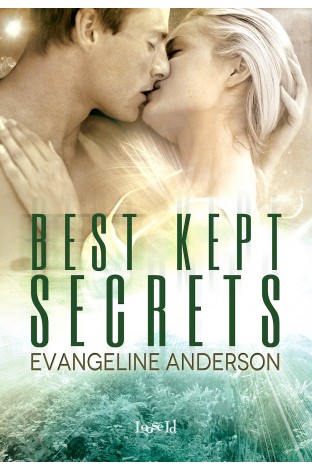 Often the most taboo desires are the hardest to ignore. Cass and Josh have been together for years. Her mother married his father and then almost immediately died in a horrible accident. Since Cass was only seventeen, her step-brother Josh made sure he took care of her. In the years that followed the two have mostly been alone flying through space and researching various plants. When Cass finally develops into a woman, her ill-fitting clothes start to cause problems for her step-brother. However, both Josh and Cass are determined that nothing come between their familial bond, not even their own desire for each other.
Best Kept Secret is a fun read but it's total erotica. The plot revolves around Josh being infected by a plant toxin that brings out true feelings and thoughts. Thus he turns into the "beast" and basically ravages Cass when he gets horny. She puts up a few weak protests but justifies that she has to give in because it's the best thing for her step-brother. I found this rationalization weak and ineffective. Josh basically rapes Cass but it's okay because she secretly wants it. But when he's himself, she has to hide what they've been doing and pretend nothing's changed. It's a plot device that is well used and most readers should have no problems with it, myself included. It just doesn't make for a compelling and well-written story is all. The back and forth didn't generate tension so much as a silly way of keeping the two from having sex immediately and the story ends.
I thought the sex scenes were pretty hot and that's what saved the story for me. The end scene where Josh and Cass finally have sex was honestly kind of laughable. I rolled my eyes several times at the dialogue and pretense, which carried on through the entire act making it neither hot nor erotic. That said I didn't mind the book so much once I just ignored the silly plot. The sex scenes were plentiful and entertaining and since clearly the book was more erotica than erotic romance, I was ok with that. It's not a well-written book unfortunately but I had set my expectations low and wasn't disappointed.
This is definitely not a book I'd read again but I have to say I didn't mind reading it. The characters are flat as a board and not well developed in my opinion. I also didn't think their relationship was all that taboo. They spent literally no time as brother and sister, there was no growing up feeling that way and they live alone on a spaceship with just the two of them. So I felt the attempt at tension in this area lacking. There really was nothing stopping the two of them from having a relationship at the very beginning. That said, I enjoyed the erotica and would recommend this only if the reader knows going in that it's hot sex but not a great story.
Editor's note:
This article was originally published at Long and Short Reviews. It has been republished with permission. Like what you read? Subscribe to the
SFRB's free daily email notice so you can be up-to-date on our latest articles. Scroll up this page to the sign-up field on your right.