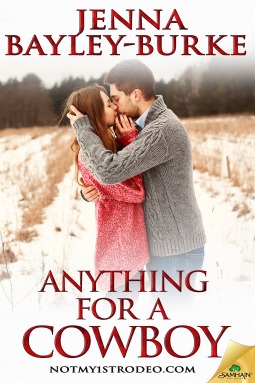 Jacy Weston couldn't believe she was signing herself up to an online dating website. With her relationship options only allowing divorced, widowed or complicated, she felt declaring herself divorced was the closest she could get to the truth about her situation. With four over-protective older brothers crimping her style, Jacy was the last of a dying breed – a thirty year old virgin. While she wasn't keen to give herself to just anyone, she did want to live her life a little before she was too old to enjoy it. Ray had been married for a brief time and had no desire to repeat the mistakes of his past. But a promise to his mum – one date every month – that he was being held to had him meeting up with Jacy. Can both of them overcome their personal complications to see the very good thing they're starting?
This is a lighthearted, fun read. I was a little hesitant about the plot at first. While I completely understand why Jacy acted the way she did – lying in her online dating profile – and there is a very solid basis for her deception, I've never been a fan of reading romances that start with such an unfaithful base. The chemistry and quickness of ease between Ray and Jacy, however, placated me a lot. The author did a really good job to my mind of showing how these two characters clicked so well. Had they met just by chance in Becky's coffee shop, then their connection and relationship would have quite possibly begun in nearly the same. So while I still disliked the plothook and enforced conflict of Jacy lying about being divorced and omitting the fact she was a virgin, much of their chemistry and relationship appeared so natural their connection read to me almost as if it were fated to be. I'm not certain, though, that this large plot device will suit every readers taste.
I found the sexual side of the relationship between Jacy and Ray to be really well balanced. While it's clear from the first page there will be graphic scenes – the whole reason Jacy has signed onto the website is to lose her virginity – neither of them jump into the sack right off the bat. I found the pacing to be excellent. The chemistry sizzled between Ray and Jacy and they took each consecutive date further and further, until they fully consummated their interest. I thought the sex scene was tasteful and hot – but not over the top or extreme. I was a little disappointed when the truth finally came out and there was no real twist – nothing different or surprising in how the scene/s unfolded. I would have been ecstatic if something new had unfolded and given the book a really fresh turn. While it didn't make the book unique or stand out from the pack for me, neither did I feel let down. The author made both Jacy and Ray really sympathetic characters and my interest in their relationship held all the way through to the end.
With one descriptive love scene and a number of steamy kisses, this is a lovely spicy romance with a bit of a kick to it. While the plot is nothing overly new, the characters and their vibrancy make up for this in my mind. A good, solid book I would definitely recommend other readers give a try.
Editor's note:
This article was originally published at Long and Short Reviews. It has been republished with permission. Like what you read? Subscribe to the
SFRB's free daily email notice so you can be up-to-date on our latest articles. Scroll up this page to the sign-up field on your right.