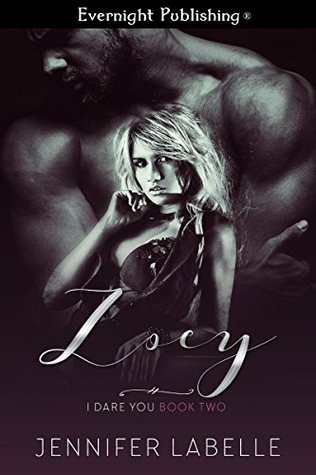 Zoey has always wanted to be part of a threesome or an orgy and a drunken dare by her two best friends finally gives her the opportunity to really let loose and try it out. Will it be everything she hopes for?
This was an interesting and very sexy short story. I liked Zoey's character – there was so much potential to her and I was excited to get to know her better. I really wished we got to spend more time with her and that the author had fleshed out her character more. I was extremely surprised that even though this was Zoey's story a large chunk of the book was spent with Heidi (one of Zoey's two best friends) in the spotlight. An entire chapter was spent with Heidi and her husband Nathan and their ménage lover, Rafe, and there were also short scenes that didn't involve Zoey at all. In a 54 page book, I really felt this was critical words and space that should have been focused on Zoey or Zoey and Rafe together – not Heidi.
This all made the story really feel more like an extension of Heidi's (which was covered in book 1) and made me feel like Zoey was almost a strong secondary character. I had a lot of curiosity about Zoey and wish we could have explored her character further, considering this was "her" book. Why was Zoey's ultimate sexual fantasy that of a ménage/moresome? How did she go about seeking this in the down-time when the story was focused on Heidi and not Zoey? What was her attraction to Rafe and how did they interact together? I really wanted more focus to be on this. There was so much happening "off camera" that it felt like I missed out on big chunks of the story – Zoey and Rafe getting to know each other better and Zoey exploring the swingers club, both of these felt critical to the plot and progress of the story and yet both were really only mentioned in passing – not in detail. I feel this was a huge opportunity that was left unexplored.
About half way through I decided to stop questioning everything and just disengage my brain. Once I simply read the story as it was portrayed I did enjoy the sexy scenes and I have to admit the writing itself was really good. As a fun, hot foursome story this ticks a lot of the boxes, sex wise. If you're a reader who can ignore curiosity and just enjoy a sexy story for the sex, this is definitely a good book to try. I enjoyed the foursome scenes – I felt they were hot and well paced. Zoey and Rafe were both smoking hot and clearly attracted to each other. Rafe was also obviously deeply in love with both Nathan and Heidi and the menage scene between the three of them was sexy too.
You don't necessarily have had to read the first book in the series to enjoy this story. There's a lot of repeated information around both the dare and how Zoey, Heidi and Meagan are friends. I was pleased for the happy ending and the foursome scenes were hot and well worth the read. Megan's story is the third (and presumably last) in this series and I'm still curious enough to check it out.
Editor's note:
This article was originally published at Long and Short Reviews. It has been republished with permission. Like what you read? Subscribe to the
SFRB's free daily email notice so you can be up-to-date on our latest articles. Scroll up this page to the sign-up field on your right.