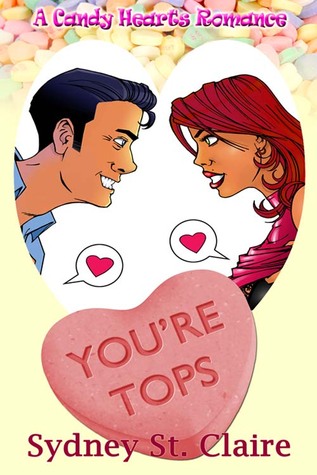 Regina might have a dozen books under her belt, but she's coming up dry when it comes to writing a fun, sexy little Valentine's Day novella. Deleting bad sex scene after bad sex scene, her spirits are getting low. Worse, she's now arguing with her fictional hero – a Dominant, Jake – and his high standards and refusal to work with any of the submissives Regina writes is making her crazy. When she takes a break she notices her next door neighbor – Tucker, the physical model for her written hero – hard at work. Sweaty muscles, delicious ass. But when a stray wind tossed some pages of her notes – notes on Dom/sub relationships! – over the fence and into Tucker's orbit, Regina won't be able to say no when Tucker offers some very real, up-close research advice.
I thoroughly enjoyed this romantic short story. Drop your brain at the door, switch off any semblance of realism and indulge in this fun, kinky, hot story. I loved Regina's chattering to Jake-the-romance-hero, and I was delighted when Tucker offered to teach Regina a few truths about his sexual tastes as a Dom. Tucker and Regina have a whole boat-load of chemistry and a sizzling lust between them burns brightly. I loved how Regina's "research" for her story might have been the opening they needed to get together, but very quickly they both accepted that far, far more was on the table and they both wanted, needed a relationship.
There is some seriously hot sex between them. A fair bit of light bondage play – spanking, toys and restraints – but nothing that I found outrageous or offensive. Indeed I loved how they could both be so sexy and into each other in the bedroom, but not let it effect them outside too much. Tucker wasn't some alpha macho man who needed Regina to bow to his every whim – their light kink stayed inside the bedroom and I enjoyed watching how it lent them intimacy and trust outside in the rest of their life. This was quite refreshing to see – how they could each be their own person outside but still forge a relationship together, one where they each were fulfilled and had exactly what they needed.
A fun, sexy, steamy read that left me feeling very happy and satisfied.
Editor's note:
This article was originally published at Long and Short Reviews. It has been republished with permission. Like what you read? Subscribe to the
SFRB's free daily email notice so you can be up-to-date on our latest articles. Scroll up this page to the sign-up field on your right.