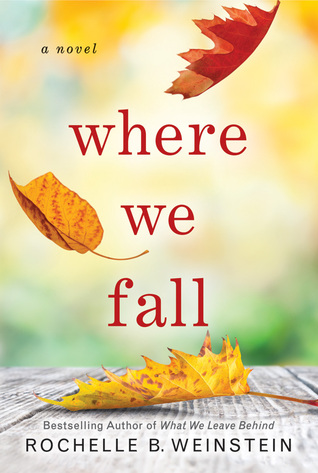 Why is it that what we don't have can overshadow what we do? Where We Fall is a poetic in-depth voice of a family that began because of a secret. The descriptive writing style will pull a reader into the personal mental battle of Abby Holden. The story pretty much focuses on where 38-year-old Abby falls and how she must address and confront her past to get back to living.
Abby's depression held her and her family hostage from achieving true family happiness. The depression put a wedge between Abby and her teenage daughter Juliana and made her dedicated husband pretty much a single father. The plot is one that will hopefully catch the reader from the very beginning and with the writer's talent for story telling as well as building the suspense it should also keep the reader entertained.
I enjoyed the story and how it was delivered. This was a story that made me think and wonder… could things have been handled differently? When all the secrets were revealed it brought about a question of what could the characters do now? The past laid heavily on Abby's heart but was she entirely the one to blame? Her best friend and Ryan's college girlfriend, Lauren, is the one that place the pieces in position but when events turn out not to be in Lauren's favor she decided to keep on her personal path to travel the world chasing waterfalls.
I enjoyed the book and would recommend it but I did have one problem with the plot. I liked the story idea of the battle with mental illness but the rooted reason for Abby's descent really didn't seem to be a reason to make her marriage and relationship with her daughter suffer. No, she couldn't have won the best friend award but if the love between Ryan and Lauren was so deep and connected why did Lauren chance leaving in the first place? Then she returns many years later with the same love for Ryan in her heart and disappointment and hurt for Abby. Lauren left; did she think Ryan would put his life on hold until she finished living?
Ryan was my favorite character because he is a man that is dedicated to family and the young boys on his football team. He is the one that seemed to have it together. I didn't like Lauren because she seemed to be lost and not know what she wanted when she was younger and now that she is older she is under the assumption that she still loves Ryan, but people change. Lauren is more naive now than she was when she left after graduating college. Juliana, Abby's daughter seemed immature or either spoiled. In her forbidden relationship with football player E.J., she was pushy to have relations with him and in regards to her mother she didn't seem to understand that her mother needed help.
This may not be a happy read. In fact it has a desolate flow but the ending made the book worth reading.
Editor's note:
This article was originally published at Long and Short Reviews. It has been republished with permission. Like what you read? Subscribe to the
SFRB's free daily email notice so you can be up-to-date on our latest articles. Scroll up this page to the sign-up field on your right.