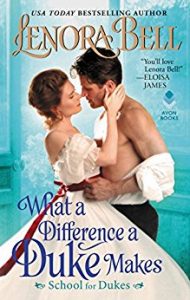 "What a difference a good book makes" should be the subtitle of this book! Actually it was better than good, it was amazing. Can I just sing that? A MaaaZingg!
I absolutely love when a book makes me laugh. I can recall three separate times that I cracked up. I had to re-read it a few times until I got the giggles out. I just love connecting with a book like that.
As a retired preschool teacher I really related to the heroine, "Mari with an i—it rhymes with starry." I respected how she developed a trusting relationship with the hero's children, Michel and Adele. For nine year old twins they were a handful. Mari demonstrated developmentally appropriate, hands-on, child process oriented art and engaged open-ended interaction. It's no wonder the children responded to her the way they did. She treated them with respect yet held them accountable for their actions. She set boundaries and expectations with appropriate consequences and was consistent and gave love with positive reinforcement. Yes, I noticed and applaud all that accurate child development detail in a romance book! If I was looking for a governess for my children then I'd consider myself lucky to have her in my employment. Mari wasn't the only well-developed character is this story.
I had the opportunity to bond with the hero as well. Edgar Rochester, Duke of Banksford was a man in need of being rescued and it obviously had to be Mari or myself but unfortunately I can't be transported into the plot. Life is so unfair. At least I got to live it through Mari. Edgar was intelligent, kind and just made me smile. He was a tad stubborn but what hero isn't? It's part of their charm. It makes the reading much more pleasurable when they realize they are being stubborn and give in.
Who doesn't grow fond of children? Okay, not everyone, but I do. Michel and Adele were adorable. After all they went through, it was heartwarming to see them in a thriving home thanks to Mari, Edgar and his entire staff. I can't leave out Edgar's sister, India when mentioning well developed characters. She was hilarious. I was happy to see that she is going to have a book of her own.
Of course there were a couple of characters that made me clench my fists such as Edgar's mother and Mrs. Trilby. Ooooh, if I could get my hands on them. I'd teach them a thing or two about being nice. However, you'll have to read how they turned out.
The plot was brilliant and honestly, refreshing. It flowed smoothly with unexpected thread plots. There is more to this story than what the synopsis says. There's a plot twist involving Mari that is quite captivating.
The writing style as well as the plot and cast of characters is really what made the book amazing. I thought it was a unique writing style to incorporate proverbs within Mari's conversations. It was truly entertaining. I am compelled to share with other readers that this is the first time when I've finished a novel that I Googled something that was mentioned in the story. I was intrigued with the plot regarding fire brigades and how they chose which fire to put out based on which insurance that property had. I didn't know about that history nor about the steam fire engine that was invented. If you don't know about both subjects then I'd Google those two things prior to reading this book, but it certainly isn't necessary. The author did an exceptional job explaining it. I was more curious if it was factual.
The icing on the cake for me was the epilogue. I LOVED it. This was my first Lenora Bell novel and it won't be my last. I'll be looking for India's story, For the Duke's Eyes Only" coming out in October 2018! Until then I definitely recommend reading What a difference a Duke Makes! It's captivating, sexy and a heartstring tugger.
Editor's note:
This article was originally published at Long and Short Reviews. It has been republished with permission. Like what you read? Subscribe to the
SFRB's free daily email notice so you can be up-to-date on our latest articles. Scroll up this page to the sign-up field on your right.