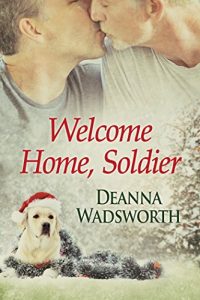 Clay had survived active duty as a soldier and cancer, he sure as hell wasn't going to let being stuck in a snow-storm end his life, particularly not before he could reconnect with Daniel. When his car breaks down Clay is grateful to be rescued and taken the last few miles to Daniel's cabin – even if it does mean they're stuck and snowed in together over the Christmas holiday. It's been a long time since the two men broke up, can they reconnect and have the Christmas miracle they both secretly yearn for?
I found this to be a heartwarming story. Even though the storyline isn't particularly unique (two men snowed in and repairing their long-damaged relationship) I still found it to be emotional and well written. I liked both Clay and Daniel's characters and a few chapters in was solidly invested in them patching their relationship up and getting back together after a very long (twenty plus years) time apart.
The emotional connection between Clay and Daniel read to me as deep, intense and quite realistic. And considering the bulk of the storyline is based around this connection – both in the past and how it still abides in the present – I was pleased that it felt strong and real to me.
I felt the pacing of the story was a little tricky. Clay and Daniel's past relationship still cast quite a long shadow, with plenty of unresolved feelings, hurt and conversations that need to be completed. This baggage could have weighted down the entire story, and while I didn't feel it was a negative aspect of the story, a part of me really wishes that Clay and Daniel had resolved their past quicker than what occurred. I understood why the author took their time with all this past conflict, and I would have hated had Clay and Daniel simply taken one look at each other and instantly forgiven one another. But I was ready for the two men to move forward and try to rebuild their life and look to the future together quite a bit before it actually happened. When they did start looking forward it was lovely, like everything finally clicked into place and I found it a true pleasure to read.
A deeply emotional and character-driven story there was lots to enjoy about this book. Clay and Daniel are both complicated, multi-layered characters with a sizzling attraction and plenty of history and conflict. This is a good book to dive into and I enjoyed it, finally finishing the book with a warm, fuzzy feeling and a happy smile.
Editor's note:
This article was originally published at Long and Short Reviews. It has been republished with permission. Like what you read? Subscribe to the
SFRB's free daily email notice so you can be up-to-date on our latest articles. Scroll up this page to the sign-up field on your right.