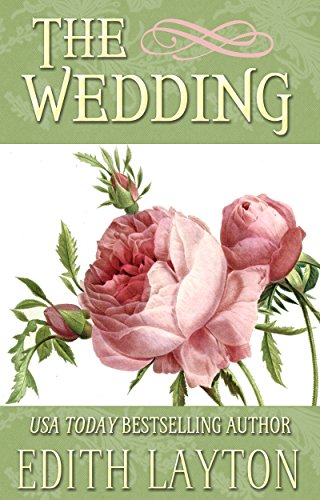 I enjoy reading historical romances and I found The Wedding to be an enjoyable relaxing read.
The writing style was good. The plot wasn't original but it was still entertaining. The cast of characters were well developed and easy to follow and I didn't get stressed because there were no sudden plot twists or urgent need to turn the pages. The story itself was enough to keep reading.
Crispin, the hero, was what every girl dreams of when they dream of falling in love; handsome, intelligent, and self-reliant.
Dulcie wasn't my ideal heroine. She was too vulnerable, weak and cried way too many times. For those reasons I found her to be difficult to relate to and therefore I had a hard time liking her. However, I did respect Dulcie because she displayed a great sense of integrity. Near the end of the book she did finally demonstrate some back bone which helped redeem her in my eyes.
I'm very particular about all my plot threads being tied up with a pretty bow and there was one thread that I felt was left loose – Dulcie's father. There is some speculation as to what happened to him, where he might be and why. I point to a section in the book synopsis, "Dulcie partakes in a desperate scheme to win her freedom" which refers to the mystery surrounding her father. Explaining why is a spoiler so I can't say anything, but rest assured, Dulcie loves her father and felt it necessary to partake in that scheme. The story ends without a conclusion about her father and there was no reunion after the main conflict was resolved and it was safe to return. I know if it was my father, I'd want to find out what happened to him, especially after all that Dulcie did for him. I'm not entirely sure he even deserved her loyalty. He was never a candidate for a "father of the year "award. It's a minor flaw but because of that and Dulcie's proclivity to cry too much, I gave the book a 3 rating.
The relationship between Crispin and Dulcie made for a sensual romance. He found her to be refreshing and beautiful and she found him to be a gentleman. They couldn't resist their attraction to one another despite being from two separate worlds.
Besides wanting to see how Dulcie and Crispin reached their happily ever after, the side characters such as Wrede, Willie and Charlotte just to name a few, were a large part of what kept me turning the pages until the end.
I really enjoyed the moral of the story which was how you can have all the riches in the world but without love you have nothing. I do recommend this book to those who have some unscheduled free time and are lazing around yet are in need of something romantic to read or just something to cure their boredom.This novel is a decent fix. I think a reader will be entertained for a few hours and be glad they read the book just like me. The ending was bliss.
Editor's note:
This article was originally published at Long and Short Reviews. It has been republished with permission. Like what you read? Subscribe to the
SFRB's free daily email notice so you can be up-to-date on our latest articles. Scroll up this page to the sign-up field on your right.