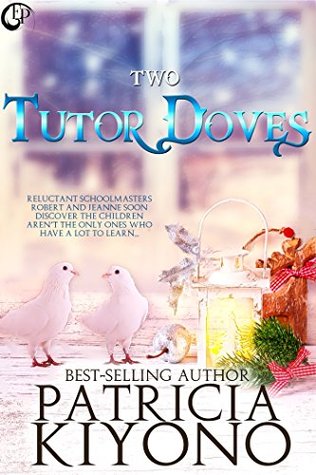 Robert Townley is the valet to Phillip Peartree – Duke of Bartlett. In his profession Robert has always risen to any challenge presented to him, but his current post might be the one to topple his perfect record. Instructing a classroom of ragtag ruffians how to read and write might be beyond even his vast capabilities. Worse was the fact Robert wasn't in this endeavor alone, Jeanne, the duchess' lady's maid was also there and should Robert cut the lessons short he was certain Jeanne would inform the duchess. Can Jeanne and Robert find some common ground and work together?
The characters in this story were complicated and I found them interesting. Jeanne has a very different and complicated history. The duke and duchess were more cameo's than main characters, and both clearly very excited and happy with their impending child. An assortment of other servants of the household all were shown to work together like well-oiled cogs in a wheel. I was particularly pleased with Robert's character. While he preferred things neat and orderly he was open to hearing the genuine thoughts from those around him and I found his mind was usually open to opinions other than his own.
I found this to be quite a thoughtful and interesting historical story. Robert is a good man, but I thought he made an exceptional, if flawed, hero. I really enjoyed the realism of Robert's character, particularly for this historical time period. Robert genuinely wants to do his best to teach the poor and rough children he's been told to educate, but he has pretty much zero experience with children and almost no exposure at all to young, poor and not-well-mannered kids. The students aren't rambunctious or wild – just young children. So having Jeanne point out his failings as a teacher – no matter how kindly – really flummoxes Robert.
While certainly not a perfect man I grew to really respect him and genuinely wanted him to end up happy. Indeed, my only real criticism of the book was even until almost half way through Jeanne thought negative and mean thoughts of Robert and only paid attention to his pompousness and different views of the classes. The main reason this irritated me so much is while Robert could appreciate other people's perspectives and tried to look at things from more than his own point of view, I felt that Jeanne just watched Robert's actions and made judgments on it. She didn't try and learn anything about his past, or try and view the matter from Robert's perspective – that society expects servants to respect and show manners to their betters. It doesn't matter that this might not be morally correct – it was what society was back in those days. And teaching the children these things were important. The children needed job, work and education, and I felt that the reality was that teaching them these notions and manners would help them progress. Jeanne's thinking poorly of Robert for doing this made me really annoyed. Initially at least I really disliked her character for it. I was pleased when Jeanne's history was explained and it helped me understand her intense dislike of Robert's need for keeping a proper distance and distinguishing between the upper class and the working class. While I could understand Jeanne's thoughts, it still struck me as a little odd – particularly for the historical setting where Robert's views were not just normal, but expected and frequently enforced.
At no stage were the character clashes between Jeanne and Robert mean or particularly angry. I think the author did a good job of balancing their conflict while still leaving room for there to be a common meeting ground and for a light romance to flourish. Readers looking for a deep romance though – with long looks and heartfelt feelings – might not find this as satisfying. I found the story was strongly focused on the education of the children, the historical setting and the characters. The romance was definitely a side-issue and not the main focus to my mind. I didn't mind this and found the story quite rich in details and characterization, I'm just not certain I would classify it strictly as a romance. Personally I found it to be more of a historical story with a small element of romance towards the end. Either way, I found the story interesting and the characters engrossing and complicated. A satisfying read.
Editor's note:
This article was originally published at Long and Short Reviews. It has been republished with permission. Like what you read? Subscribe to the
SFRB's free daily email notice so you can be up-to-date on our latest articles. Scroll up this page to the sign-up field on your right.