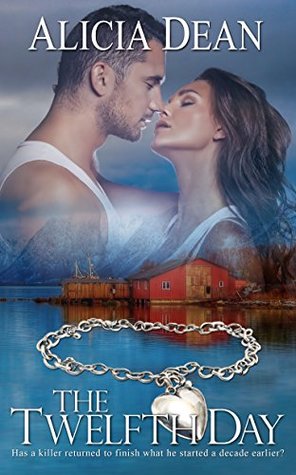 Sabrina hates Christmas time and anything else to do with the holiday season. To escape the horrifying memories, she decides to go away to the lake house and try to find some peace. But who is sending her the creepy texts? And are the two contractors working on her friend's lake house – Josh and Dustin – really as nice as they seem?
I found this to be an interesting mystery/suspense story. I enjoyed the Christmas premise – and thoroughly enjoyed a Christmas story where the heroine pretty much hates Christmas – I found it quite refreshingly different. I also enjoyed how there were a few sub-plots mingled in with the main plot of the killer who murdered Sabrina's family and held her captive a number of years ago.
I thought the cold and isolated lake was an excellent backdrop for the murder-mystery and with a strong set of secondary characters my interest was captured quickly. The sub-plots with such a cast of good characters kept me turning the pages eagerly, deeply invested in what would happen next. I was exceedingly pleased when a number of my guesses about the various plots turned out to be incorrect (nothing I love more than a mystery that keeps me wondering!) but I did manage to predict a few of the more clichéd aspects of the plot. Still, I found overall the mystery was refreshingly different and kept me on my toes, so I really enjoyed that.
There is plenty of – very antagonistic to my mind – chemistry between Josh and Sabrina. Usually it annoys me when the hero and heroine spend most of the story at each other's throats and then magically decide they actually really like each other toward the end of the story. In some respects this really frustrated me. While there certainly was chemistry both Josh and Sabrina really did seem to strongly dislike each other so that made their eventual romance seem fairly unrealistic to me. Thankfully I found this story so heavily invested in the suspense/mystery aspect of the plot I could just ignore the small romantic sub-plot and I don't believe this lessened my enjoyment of the story at all. I feel this is a really wonderful mystery/suspense story, I just personally found the romantic aspect of it lacking.
With plenty of interesting and strong secondary character's and a few really intriguing sub-plots as well as an excellently written main murder plot I found there was a lot to enjoy about this story. I very quickly found myself invested in both the mystery and a number of the characters and would happily read more mysteries by this author. A good, suspenseful read.
Editor's note:
This article was originally published at Long and Short Reviews. It has been republished with permission. Like what you read? Subscribe to the
SFRB's free daily email notice so you can be up-to-date on our latest articles. Scroll up this page to the sign-up field on your right.