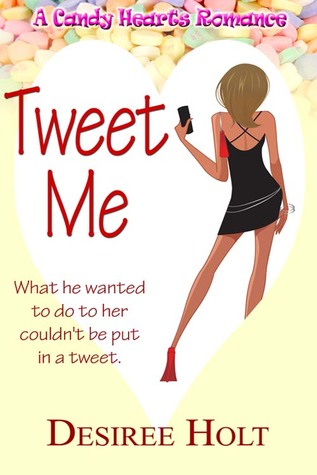 Avery is a hugely successful wedding planner – one addicted to her twitter account to handle all the details for her. When her best friend decides to move up her wedding – to Valentine's day in a few weeks time, Avery decides she's up for the challenge. That is, until she discovers her friend is going away for work for a week and a half and Tanner Voss has been delegated as the interim replacement to help Avery make all the necessary decisions. Avery is blindsided, but determined to forge ahead, even if Tanner does make her hormones riot and want crazy things.
I really loved how Avery and Tanner's friends just kinda threw them together and helped set them up. I found it fun and unique – don't think I've ever read before of a wedding planner being lumbered with one of the groom's friend to set up a huge wedding in three weeks before. It was a great plot and lots of fun to read. I enjoyed how Avery came across to me as a modern, busy woman. One who was sensual but too professional and busy to indulge. I was a little disappointed in how fiercely she resisted Tanner's careful advances.
Tanner might have had the reputation as a ladies man, but was not arrogant or conceited about it. He simply was modern, and enjoyed his sexuality. Owned it. That really appealed to me and made him seem strong and sexy without being a jerk about it. I also was impressed he recognized his feelings for Avery weren't his usual fleeting impulses and how he was prepared to open himself up for something deeper and stronger relationship wise. I found throughout the story he was funny, sexy and flirtatious while very studiously toeing the line between not pushing and letting Avery know of his interest. The manner in which she shut him down after he'd gone to pains to show he was seriously interested – and not in a fleeting, wham-bam-thank-you-ma'am kind of way – really had me thinking less of her as a character and getting annoyed with her. It also made me feel rather as if Avery's so-called confidence wasn't real or as genuine as I would have expected. It put a bit of a dampener on my enjoyment.
There is plenty of chemistry in this book, which was a pleasure to read, and one steamy love scene. While graphic I found it tastefully written and very well led up to – no "their eyes met and they jumped into bed" here. Readers who don't like any descriptive sex might want to skip those few pages, but I strongly recommend trying the rest of the book. The sex scene is only one tiny part of it and I feel it would be a shame to miss such a fun story for the sake of a few pages. Personally, I enjoyed the well-deserved culmination scene between Avery and Tanner and found it delicious and very much the happy ending this story needed.
A fun, quick read that I enjoyed.
Editor's note:
This article was originally published at Long and Short Reviews. It has been republished with permission. Like what you read? Subscribe to the
SFRB's free daily email notice so you can be up-to-date on our latest articles. Scroll up this page to the sign-up field on your right.