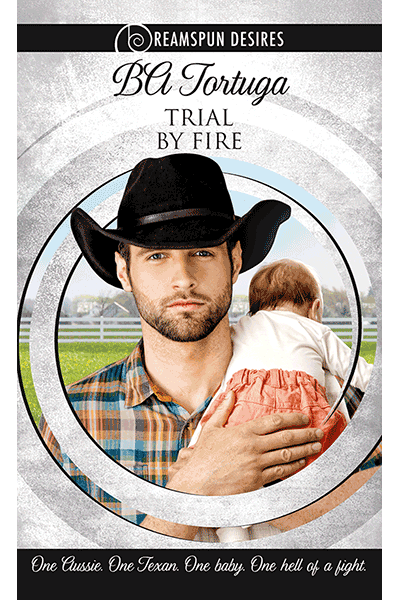 Heartbreaking tragedy may have brought them together but love for a precious baby and each other will make them a family.
If the death of Chloe's parents wasn't enough for these families to deal with, a group of desperate and bumbling would be baby-nappers keeps the anxiety and tension rolling in. I wasn't worried about the baby being found safely but I was curious to see how it affected Holden and Lachlan and I also had a sneaking suspicion that Ryan and Dez were going to need to blow off some steam once the dust settled.
There's a lot going on in this story to say the least. At the heart of it, who was going to be responsible for the baby and would she be calling Texas home or Australia or both? I was rooting for both but with both Holden and Lach being business men in their own right, how would they make it work once they realized they wanted it to work? The chemistry between the characters was there so I had a vested interest to keep reading to see how the author would work it out.
There's this whole backstory about Lachlan's sister. I had to piece together the life she had in Oz with her family being just shy of celebrity status because of their wealth. I'm still wasn't completely clear on what all had happened to her but I understood she wanted to run away from some bad memories and Landon represented that escape.
This book wore me out but I couldn't put it down. I swear nothing was going right for Holden, except the sexual chemistry with Lachlan. Besides that, if it could go wrong it went wrong times ten. I don't know that a single person could take this much anxiety and stress and come out sane on the other side. It just felt like a lot. I think if Holden hadn't been trying to shoulder it all, if he'd let more of his family, Lach's family, leaned at least a little on somebody, I was kind of hoping Lach would spank him after he goes after the kidnappers with only a ranch hand to help.
There are a lot of extra's in this novel. Two sets of families with two set of grandparents plus all the ranch hands. It was a lot to keep up with. Both sets of grandparents, understandably, want Chloe in their lives. The arrangement the men work out makes the most sense. I'm curious about the security company Ryan and Dez create. Those two have some lovely volatile chemistry that is sure to be explosive when they give into it.
Two men who lost so much so quickly and both wanting the connection that comes with having Chloe in their lives. I wanted to see how they worked it out. The author brought this story to a satisfying conclusion. I would recommend this book to others who enjoy the western scene and stories full of heart.
Editor's note:
This article was originally published at Long and Short Reviews. It has been republished with permission. Like what you read? Subscribe to the
SFRB's free daily email notice so you can be up-to-date on our latest articles. Scroll up this page to the sign-up field on your right.