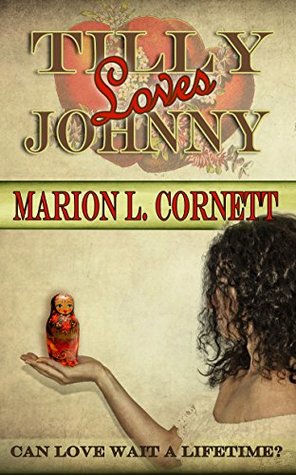 Tilly Miner's love and dedication for her husband Johnny kept my attention. The plot is interesting but seemed to be delivered in away that truly didn't give it full justice. The book opens at the beginning of a card game, then follows with Tilly's story of Johnny's long nights of not coming home. Rumor has it Johnny is into various unlawful acts and when he goes missing. Tilly is the only one that believes in his return.
Tilly's life is depressing and sad. I wanted something good to happen for her but it never did. She had this dark cloud over her through out the entire book. Though Tilly's life was sad I was drawn in to continue reading. Tilly didn't have an exciting life nor many thrills. It seemed the only joy Tilly had was her friend Rita Mae and their shared enjoyment in going to the movies. I felt that Tilly was cheated. She didn't have a husband who truly loved her like she loved him. Johnny didn't spend time with her, nor did he really show Tilly that she was a priority. Tilly lived in her family home on the second floor while her father lived on the third floor. Tilly's mother has been deceased for years. Tilly and her father didn't have a close relationship. Her father seemed more concerned with Johnny's behavior and repetition than he did in how unhappy his daughter was.
I thought maybe when Tilly got pregnant that that would bring about some happiness to Tilly's life. This only made me feel sorry for her daughter, Tiz because she was basically motherless. This book is an example of someone focusing on the bad and not on the good in life. Tilly enjoyed reading the town paper and making accessories but eventually she lost interest in these things.
I did like the small town interaction. The various characters that helped give the story realness. I liked the relationship that Thad Andrews, the milkman, had with Tilly. It seemed that was the highlight of Tilly's day when Thad and Brown Molly, Thad's horse, brought milk.
Even after finishing this book, I am still trying to figure out how I feel about it. While reading, there is the question is Johnny really dead or did he just leave town to avoid those that were looking for him. The ending was unpredictable for me. I give the author high praise for a creative ending. I was glad that the story gave a full ending in disclosing what really happened to Johnny and how other characters fared.
Editor's note:
This article was originally published at Long and Short Reviews. It has been republished with permission. Like what you read? Subscribe to the
SFRB's free daily email notice so you can be up-to-date on our latest articles. Scroll up this page to the sign-up field on your right.