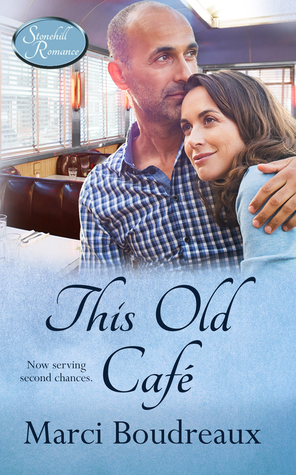 Jenna had opened her small café to prove to herself (and her ex-husband) that she could indeed make her dreams come true. She hadn't been prepared, however, for just how much hard work and expensive it would be. Desperately trying to fix a broken pipe in the café's kitchen, screaming at the cold water sploshing everywhere and ruining her floors, she's shocked when Daniel comes in to "rescue" her – assuming from her cries that she was being mugged. Both Daniel and Jenna are desperate in their own ways. Can they help each other?
I found this to be a lovely, slow-paced, small-town style of story. Both Daniel and Jenna have their own problems, Jenna is recovering from a nasty marriage and some emotional baggage resulting from that and Daniel is trying to fit back into a "normal" life after fighting in Afghanistan. Neither are looking for love – merely for a way to try and make the best of the life they want to have. While I found the plotline was nothing too new or unique – Jenna helping Daniel out in thanks for his handyman help around her café and the two fall in love – I really did enjoy the author's tone of storytelling.
I found both Jenna and Daniel interesting and sympathetic characters, and the whole situation unfolded steadily enough that I was hooked by the end of the first chapter. I always enjoy a slower-paced romance, one where I can get to know each character, see how well they'll fit together and then watch as they ease into something lovely together. Add in some strong secondary characters – Jenna's brother and some of the other towns-folk – and there is plenty to keep my attention and have me eagerly turning the pages.
I was a little disappointed at how clichéd the conflict in the story was. While it didn't drag the whole plot down too much, it made me frustrated with both Jenna and Daniel for different reasons. Personally I felt that their own issues (Daniel's PTSD especially) were plenty of "conflict" for the plot and adding in the miscommunication and annoyance toward the latter end of the story merely made me frustrated as a reader – I truly feel it didn't add anything to the romance, or to Jenna and Daniel's storyline. I feel it could have been much better handled – though admittedly this is my only criticism of the entire story, I thoroughly enjoyed all other aspect and this didn't annoy me enough to stop me continuing to read the story right to the last page.
The romance was spicy but also sweet – I loved how both Jenna and Daniel wanted to protect and support each other, in so many ways this really was a match of equality. I also enjoyed how modern the romance was, even though Daniel's instincts were to be all alpha male and super-protective, he could enjoy Jenna's spirit and fire and I loved how he accepted and understood her desperate need to help and protect him, too.
I really enjoyed the parts where Jenna and Daniel compromised and worked together – I found those parts particularly delightful to read. I loved how the physical intimacy grew slowly between them, first with chemistry, then with a solid and long "getting to know you period" and then finally with some actual consummation. Personally I found the sex to be tastefully written and while it was clear what happened, it was eluded to – not actually described intimately.
Apart from a few hiccups toward the end I found this generally to be a great book with vibrant characters, an interesting plotline and a deliciously slow, romantic love story. I genuinely enjoyed this story.
Editor's note:
This article was originally published at Long and Short Reviews. It has been republished with permission. Like what you read? Subscribe to the
SFRB's free daily email notice so you can be up-to-date on our latest articles. Scroll up this page to the sign-up field on your right.