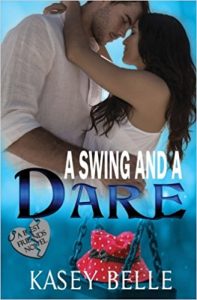 When Annabeth's dad moved them both she hated being the new kid at school, but meeting Jack and becoming friends with him helped shape her from the small, scared little girl she was into the strong and capable young lady she became. Abby and Jack had an almost life-long friendship and while they both loved each other dearly, neither wanted to take the step from friends to lovers in case their closeness couldn't survive the change. But when Abby survives a dangerous ordeal, Jack feels compelled to take the plunge. Can they shift their relationship from being just friends to being everything to one another?
I found this to be a funny, romantic and very sexy friends-turn-into-lovers style of story. I enjoyed both Jack and Abby's characters, finding them multi-layered, interesting and believable. I also am quite a sucker for a friends-to-lovers story and this one didn't disappoint.
There is a near-rape scene at the start of the story that I found a little shocking and which took me by surprise. The prologue was very sweet and a little funny and so jumping directly from that into the almost-rape was quite jarring. While certainly not lurid or overly-graphic, it's a serious scene along with the after-effects (hospital, doctor and police questions etc) and considering the prologue is quite light and happy I really felt that a little more time blending the story from that idyllic "childhood first meeting and becoming friends" scene into Abby being assaulted by a co-worker would have made the transition far less jarring. I have to admit though, after the shock of the opening scenes I felt that the story settled back down into a happy, mostly light-hearted friends-to-lovers style of story like what I was expecting. I enjoyed the banter and camaraderie between Abby and Jack and felt they had a good connection and when they started to admit their feelings for each other I thought there was good chemistry between them.
I also enjoyed how there were small snippets of flash-backs to Abby and Jack's childhood growing up together. I could understand how this time-jumping back and forth might not be every reader's cup of tea – some will love it as I did and others I can believe will find it jarring and annoying. Personally though I felt the flashbacks helped make the story better and showed me more depth to the solid and life-long friendship between Abby and Jack.
There are plenty of other wonderful characters – Jack's SEAL buddies in particular – and I'd happily read more stories about these other delicious men. I thoroughly enjoyed the author's happy, slightly snarky/sassy writing style and overall I really loved this book. A solid read with plenty of action, conflict and tension and just enough delicious heat to spice the romance up this is a well rounded book and an author I plan to keep an eye out for.
Editor's note:
This article was originally published at Long and Short Reviews. It has been republished with permission. Like what you read? Subscribe to the
SFRB's free daily email notice so you can be up-to-date on our latest articles. Scroll up this page to the sign-up field on your right.