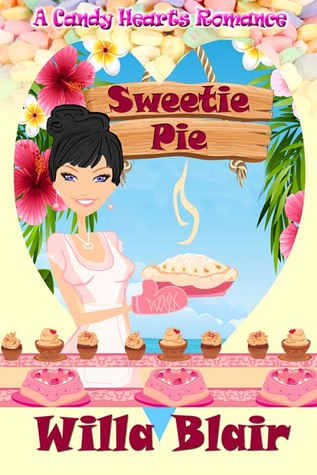 Makenna loves her new bakery – Sweetie Pie. Having left Scotland – and her idea-stealing ex boyfriend – behind, Makenna was determined to make her gluten free bakery a success in Hawaii where her mother's family lived. A few weeks in and Makenna is loving it, and thoroughly enjoying her first local repeat customer, Tom. Tom is deeply intrigued by Makenna, and loves that she has no clue about his past and zero knowledge – or interest – in his money. Wanting to get to know her better he offers to teach her to surf. It's just the opening they both need to get to know each other far, far better.
I loved the pacing in this story, slow but not dragging, moving forward while still taking its time. Makenna and Tom both have their past issues, but together they blossom and finally can heal and learn to trust again. I loved the spicy sex scenes – descriptive and hot while still tender and loving. While explicit, I didn't find anything in it to be envelope pushing or outrageous. I also found the placement of the scene – when Makenna and Tom truly began to trust each other and open themselves up – to be perfect. It helped the sex not just be for sex's sake, but to acknowledge both the characters were truly becoming serious about each other.
I found myself having mixed feelings about the conflict in the plot. While I thoroughly enjoyed the slightly different twist – it didn't feel too clichéd to me – I was disappointed that Makenna had such double standards. I thoroughly understood her upset and anger toward Tom, but felt the fact she'd kept him in the dark about her past made her anger somewhat unjustified. Tom didn't know about her past, didn't know about her hurt and pain, and so without that knowledge how could he know or understand how strongly her reaction to a similar "betrayal" could be? The fact the conflict made me really sit back and think about the situation, mull it over and tease it all out in my mind showed how excellently it was written – and how invested in the characters I had become. In that sense, the writing and story was fantastic. It didn't quell the spurt of disappointment I had in Makenna as a character though, and while I happily moved on when she did, it did leave a slightly unhappy flavor in my mouth.
Overall though I really enjoyed the story. I loved seeing Makenna and Tom get together, I loved the fact the plot really made me think and got me so hooked and invested. I loved the writing style and will happily search out more of this authors work.
A fun short story that packed quite a punch. Recommended.
Editor's note:
This article was originally published at Long and Short Reviews. It has been republished with permission. Like what you read? Subscribe to the
SFRB's free daily email notice so you can be up-to-date on our latest articles. Scroll up this page to the sign-up field on your right.