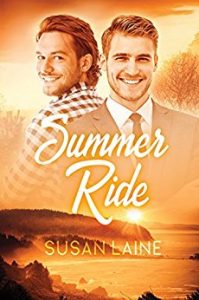 Toby and Jim haven't seen each other since High School graduation and happen to meet by chance at a bus stop in the middle of nowhere. Toby is at a loose end, wanting to head west but with no real destination in mind, whereas Jim is happy to take Toby along for the ride, for the company and reconnection at the very least. Will this summer ride change both men's lives?
I found this to be a really interesting and character-driven story. While I loved the deep conversations between Toby and Jim this story really is based around a bunch of very long talks between the men. Personally, I liked this character-driven style of story but I can well understand if the lack of action or adventure might not appeal to a lot of other readers.
The two men spent the majority of the book sharing with each other the course their lives had taken once they'd left high school – how things had turned out the same, and differently, to how they planned and expected. While not angsty or depressing, I found it interesting how they both had wended their way through the ups and downs of growing up and living their lives. I found both men really interesting – rather similar despite their different families and different situations. I loved how this – and their childhood friendship – created an emotional tie and link between them.
I wasn't quite sold on how neither man knew the other was gay and they didn't know they were interested in each other. While as small children I could certainly understand them remaining oblivious, as experimenting teenagers (and good friends) I just found that a bit hard to believe. That said, in general I found the story to be otherwise realistic and believable. I thoroughly enjoyed how neither man simply jumped into bed with the other – they both were cognizant of the fact their future potential friendship could be muddied with sex, but they agreed they were willing to give it a try. When Toby and Jim became intimate I found the scenes well written, steamy and full of emotional connection which I really enjoyed.
With a happy ending and a bright future ahead I enjoyed this story, finding it well-rounded and the character-driven plot interesting and engrossing to me. A great read and one I'll happily re-read again in the future.
Editor's note:
This article was originally published at Long and Short Reviews. It has been republished with permission. Like what you read? Subscribe to the
SFRB's free daily email notice so you can be up-to-date on our latest articles. Scroll up this page to the sign-up field on your right.