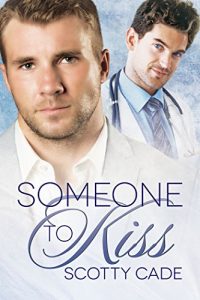 Dane was ecstatic. He was deliriously happy with his boyfriend, Carter, and they'd both agreed to spend the Christmas vacation together, alone. Best of all, Dane was thrilled to finally have someone special to ring in the New Year with, someone to kiss at midnight. A dramatic and unavoidable change in his work plans, however, could derail not only that special New Years kiss, but possible Dane's whole future with Carter. Can they both survive the holiday season?
I found this to be an emotional and well written short story. I thoroughly enjoyed both Dane and Carter's characters, finding them realistic, vibrant and interesting. The issues that Dane and Carter found themselves faced with when Dane's work forces them both into a huge upheaval were well handled I felt and kept me invested in both men and their relationship. I thought the author did a great job balancing between each of their desires and kept the storyline rooted in reality when it could have easily become over-dramatic or a little soap-opera-ish.
I was a little disappointed that a very large part of the start of the story was actually flashbacks to when Dane and Carter actually met. About a third of the story was taken up in this matter and I felt could have really been put in a better, more logical order. While I thoroughly enjoyed witnessing Dane and Carter's initial meeting and the showing of the start of their relationship, it felt quite jolting to me for the story to literally go backwards. I completely understand why the author wanted to add the "meeting each other" section and I do feel it added positively to my understanding of Dane and Carter's relationship and the story as a whole, but the placement of it felt jarring and I actually hurried through this quite large section – wanting to get back to the "present" and see how Dane and Carter dealt with their current problems. The writing itself was excellent and I genuinely enjoyed learning more about Dane and Carter's history together, but I can't help but feel it made the story itself feel jolting and this could have easily been avoided and the story would have been much smoother, I feel, if the author had kept everything sequential time-wise.
This is a very emotional, and in its own way romantic, story that I genuinely enjoyed. I was hugely invested in both Dane and Carter's characters and particularly their relationship. While the back-and-forth time hopping wasn't to my personal taste, the overall plot of Dane and Carter's relationship was engrossing and I desperately wanted to know that they could both pull through their troubles. I was very satisfied with the ending and would happily read other stories by this author.
Editor's note:
This article was originally published at Long and Short Reviews. It has been republished with permission. Like what you read? Subscribe to the
SFRB's free daily email notice so you can be up-to-date on our latest articles. Scroll up this page to the sign-up field on your right.