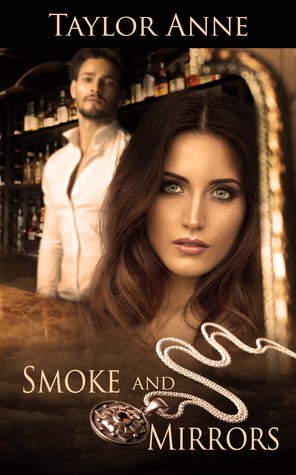 Smoke and Mirrors literally caught my interest with the first sentence. I love when that happens. In fact I had to stop and make a decision – do I continue reading knowing it might be one of those books I'm not going to want to put down and I didn't have much time at that moment? Or wait until I can sit uninterrupted? I chose to continue reading as fast as I could.
The heroine, Abby Monroe, is an average everyday woman who happens to find herself in a not so average predicament. The hero, Graeme, isn't the average everyday man. In fact he has such an interesting history that when Abby and Graeme are together they are anything but typical. In fact the suspense/mystery surrounding them was spellbinding. When you consider the combination of suspense/mystery and their chemistry, it was a miracle I was able to put the book down when I had to.
It was a thrill to pick it back up the next chance I had. The pace was consistently swift and smooth, and the writing style was excellent.
So why the three point five star? I had a small issue with part of the plot. Without spoiling anything I will only say that I do not think Abby took the reality of her predicament serious enough. I felt she was selfish and irresponsible. In the real world when put in that type of situation, I'd hope the individual would heed the advice that was given by a professional and not act or think like they knew better. I do understand it's a story and that the plot had to be written that way so she could meet Graeme, but I would rather have seen her meeting him with a different course of action. I have an issue when one person puts others at risk because of their own selfish thoughtlessness. Abby actually did this again later in the book and I will admit that it definitely resulted in more suspense. Perhaps that is what made it a great book. However, that hiccup over the heroine's decisions didn't set well with me. Thank God, Graeme was man enough to ensure a happy ever after ending!
I will say the plot twist at the end was a surprise that I didn't see coming and was well played out. I am curious to see if Abby's best friend, Lace, and Graeme's best friend/co-worker, Cooper, will get a book of their own. I'd be interested in reading their story.
Editor's note:
This article was originally published at Long and Short Reviews. It has been republished with permission. Like what you read? Subscribe to the
SFRB's free daily email notice so you can be up-to-date on our latest articles. Scroll up this page to the sign-up field on your right.